Participants at the event will have the chance to present their products and services and find compatible partners for international collaboration.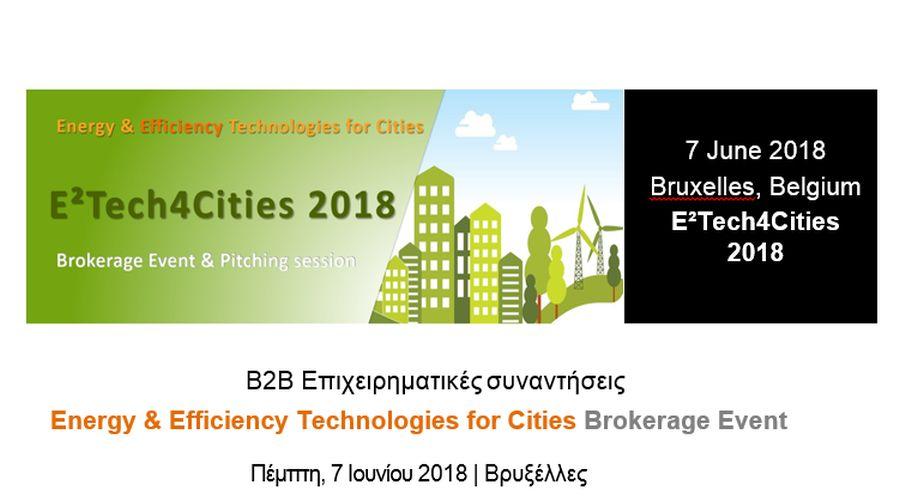 The International Forum E²Tech4Cities 2018 - Energy & Efficiency Technologies for Cities being held on 7th June in Brussels, as part of the EU Sustainable Energy Week (EUSEW) 2018, is being organised by Enterprise Europe Network, with the support of the networks 'C-Energy 2020' National Contact Point for Horizon 2020 and 'ETNA 2020' National Contact Point for smart, green transport Horizon 2020. The participation of Greek organisations is being supported by the National Documentation Centre (EKT), co-ordinator of Enterprise Europe network-Hellas, the Greek node of the European network.
Those Greek organisations and businesses taking part will be able to meet potential customers and widen their contacts network, discover innovative technologies and products, develop business/technological partnerships in Europe, learn about Horizon 2020 funding opportunities, find partners for the submission of joint proposals, and/or a suitable Horizon 2020 project for their field and take part in 30-minute bi-lateral meetings with businesses, research bodies and universities.
The event targets businesses and research bodies active in the following areas:
Energy-efficient Buildings and districts
Smart mobility and logistics
ICT for cities, Smart cities and communities
European Research and Innovation opportunities under Horizon 2020
Energy management & recovery
Bio-based solution for urban districts
Smart and healthy living
Interested parties should complete the relevant participation e-form, submitting their profiles (requesting or offering business proposals, technological products or participation in research programmes) before 28th May 2018. Profiles will be published in an online list and will form the basis for the meetings. Participants will receive a personal schedule a few days before the event.
When registering, interested parties can opt to receive the services of the Support Office at the National Documentation Centre (EKT/NHRF). Support will be given throughout the process of selection, the search for suitable partners and the journey. Participation in the event is free but travel and accommodation expenses are the responsibility of the participant.
For further information, contact the National Documentation Centre (Fani Lamprianidopu, tel: 210 7273933, email: lamprianidou@ekt.gr). The Enterprise Europe Network is the largest support network in the world for SMEs with international ambitions, having 3,000 experts from 600 organisations in more than 60 countries. The Greek node of the network is Enterprise Europe Network-Hellas and includes industrial associations, research and technological institutes, commercial and industrial chambers and prestigious entities in innovation and SMEs.
Note that EKT, as co-ordinator for Enterprise Europe Network-Hellas, the largest Greek business support network, supports innovative and outward-oriented Greek businesses in gaining access to new markets and funding. It provides customised services for innovation management and scaling up businesses. It gives information on European policies and enables SMEs to participate in consultations on future initiatives. The Greek network mediates approximately 100 transnational partnerships per year.
www.ekt.gr, with information from National Documentation Centre, Enterprise Europe Network-Hellas