The first of a series of three seminars comprising 'Real Skills for Scientists - Computer Science' will be held on 8th October 2020. The series aims to help develop skills for the professional employment of young scientists and researchers in Computer Science.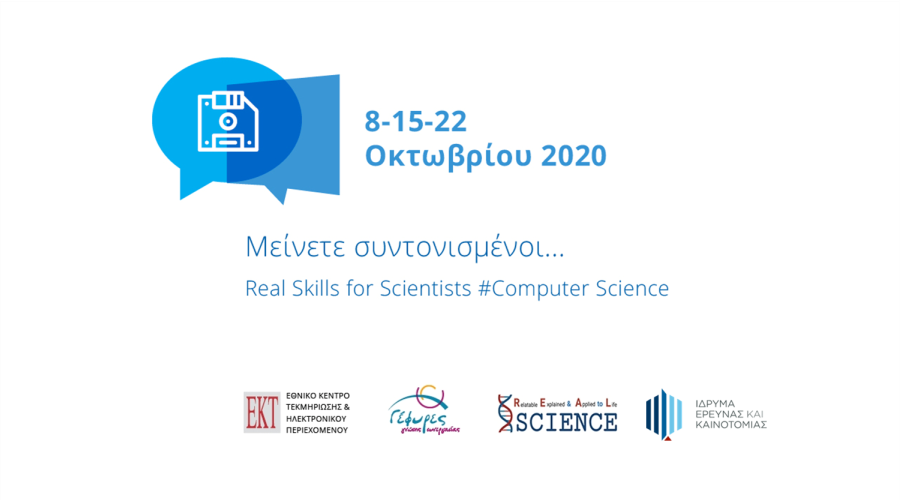 After the successful first series 'Real Skills for Scientists-Life Sciences', the National Documentation Centre, under the 'Knowledge and Partnership Bridges' initiative, and in co-operation with REAL Science , will be back with a second series of webinars, this time in the field of Computer Science (Computer Science, Computer Engineering, etc.). The second round of seminars will be supported for the first time by the Cyprus Research and Innovation Foundation.
The series of seminars, which consists of 3 webinars with knowledgeable speakers on the various topics that will be presented, is aimed at undergraduate and postgraduate students, doctoral and postdoctoral researchers as well as young researchers of all disciplines, levels and career stages. During the seminars, young scientists, young professionals and entrepreneurs will have the opportunity to meet online and talk with renowned scientists from Greece and abroad, who will share their own career experiences. The speakers come from both academia and business.
The common theme running throughout all the seminars is the development of skills for the professional employment of young scientists and researchers, such as creating a suitable curriculum vitae, volunteering, parallel fields for strengthening their research/scientific profile, writing research proposals, research activity through scientific publications, useful networking tips, etc.
The second series of seminars will start in October and will include 3 seminars:
• Thursday 8th October: Creating and improving a CV
• Thursday 15th  October: Funding, job opportunities
• Thursday 22nd October: Networking, community building
Stay tuned for more information about the speakers and registration in the forthcoming days.