The training workshop exclusively targets researchers who have already a draft proposal.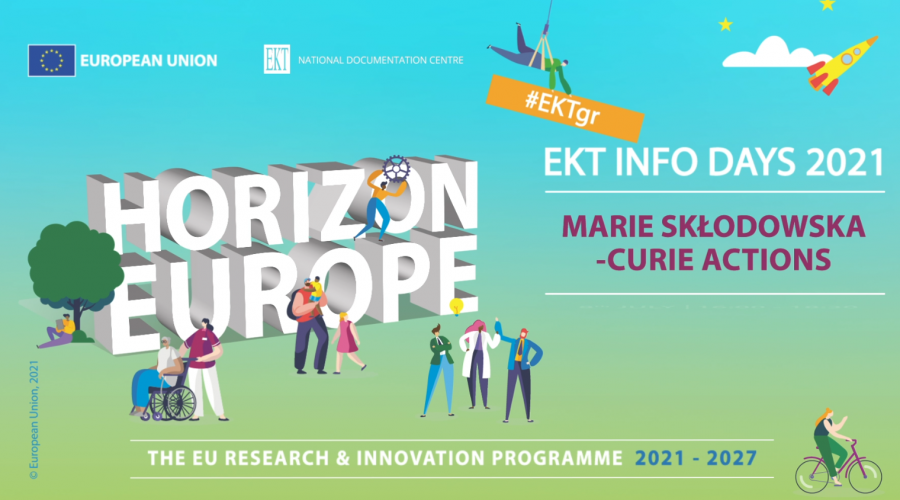 The National  Documentation Centre (EKT) and the Cyprus Research and Innovation Foundation (RIF), National Contact Points for the 'Horizon Europe' Programme of the European Union, are organising an online training workshop on the Marie Skłodowska-Curie Actions (Postdoctoral Fellowships), on Tuesday 14 September 2021 (10:00 - 15:00). The training session is being held under the Knowledge and Partnership Bridges Initiative implemented by EKT.
The workshop will be conducted online through the Zoom platform and will accept applicants who ahave already a draft proposal (the submission deadline for which is October 12, 2021).
In order to ensure the smooth and effective implementation of the training, places are limited to 30. The selection of participants will be based on first come / first served, provided that the basic eligibility criterion is met, ie there is a draft of the proposal.
By submitting your application, you responsibly declare that all the information you have filled in is true and accurate. In the event of your wishing to withdraw your participation, please notify us in time to give the position to runners-up. Not doing so will mean not being given priority in subsequent seminars.
The workshop will be in Greek and is provided free of charge.
ΕΚΤ as a National Contact Point for Horizon Europe
EKT is the National Contact Point for Horizon Europe, specifically the Marie Skłodowska-Curie Actions (MSCA) programme of Pillar 1  and the 'Health' and Digital Technologies, Industry and Space' sectors of Pillar 2 . With years of experience and know-how as a National Contact Point for European projects, it supports organisations, enterprises, academics and research organisations to identify funding opportunities, draft and submit proposals, implement projects and exploit research results. EKT not only contributes to the recording and analysis of Greece's participation in European research and innovation programmes but, as a National Contact Point, it also supports the implementation of ongoing projects under Horizon 2020.
www.ekt.gr, with information from ΕΚΤ, ΙδΕΚ