The journal is an international forum for researchers seeking to enhance knowledge and understanding of the complexity of social behaviour and new media.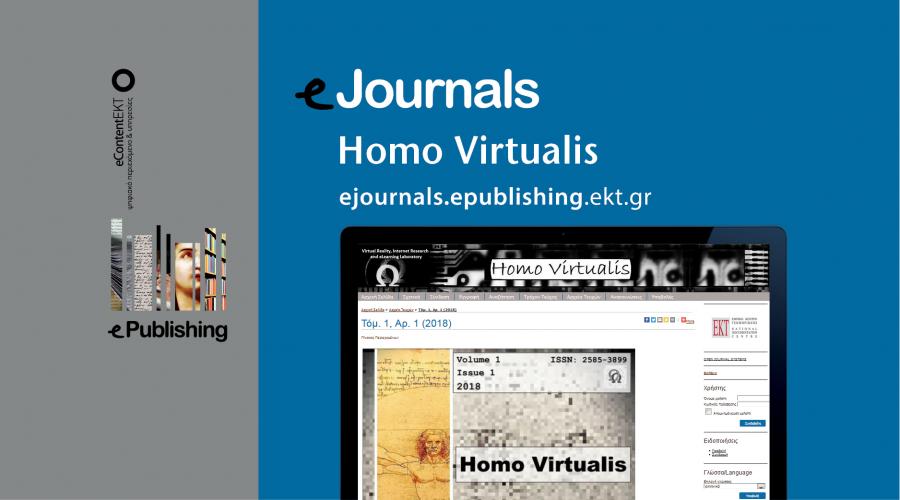 Homo Virtualis, a new scholarly journal published by the Virtual Reality, Internet Research and e-learning, Panteion University, is available electronically at EKT eJournals. The journal aims to combine substantial and original knowledge production with Open Access, communicating the latest scientific findings, and focusing on social and behavioural sciences, the humanities, education and the health disciplines, from a reflexive and critical standpoint.
Published biannually in English and Greek, it is a transdisciplinary double-blind peer-reviewed and open access journal for the publication of research papers, discussions and reviews on methodology and theory in the wider field of virtuation, human complex systems, virtual communities, digital cultures, social networks, and social behavior in blended (online/offline) techno-social environments.
The first issue features 2 interesting articles: " 'Me and my students' smartphones in the classroom': A case study using arts-based methods" which looks at children using smart phones in the classroom and teachers reactions and 'Smartphones and their use by teenagers and young adults - differences and similarities: A case study'.
Journal publisher
The Virtual Reality, Internet Research and e-Learning Laboratory Department of Psychology, Panteion University of Political and Social Sciences has been in operation since 2009. The goal of the laboratory is to promote socio-psychological theory and research in technologically constructed and mediated environments (internet, cyberspace, social media, virtual worlds) and investigate the development of technological applications with social value.
The research team consists of faculty members, post-doctoral researchers, PhD and post graduate students in social sciences and humanities, psychology, computer science, law and other disciplines.
During its existence, the Laboratory has carried out research projects in areas such as: the environment, migration, virtual worlds and e-learning, e-politics. It has organised workshops and seminars in collaboration with academic institutions and bodies in Greece and abroad. The department also organises biennial inter-institutional Post Graduate Study Programmes on 'Virtual Communities: Socio-Psychological Approaches and Technical Applications'.
Besides the Homo Virtualis journal hosted by the National Documentation Centre's e Publishing, the laboratory also publishes monographs and collective volumes.
Publishing partnership with EKT
EKT provides the infrastructure for the electronic publication of the journal, while the Virtual reality, Internet Research and e-Learning Laboratory is responsible for the content.
The platform ejournals hosts high quality journals, 36 to date, and offers an integrated publishing environment and  open access to authoritative content, enhancing academic communication and research activities. Today, many prestigious institutions use EKT's epublishing platforms in their transition to a modern method of scholarly publishing covering all stages of the publishing process.
EKT ePublishing consists of three platforms for journals, conference proceedings and books-monographs. These platforms host the content of each publisher (journals, monographs, conference proceedings) making the co-existence with other prestigious publishers possible.