The objective of the FET programme 'Future and Emerging Technologies' is to strengthen the competitiveness and development of Europe and to create new highly-skilled jobs.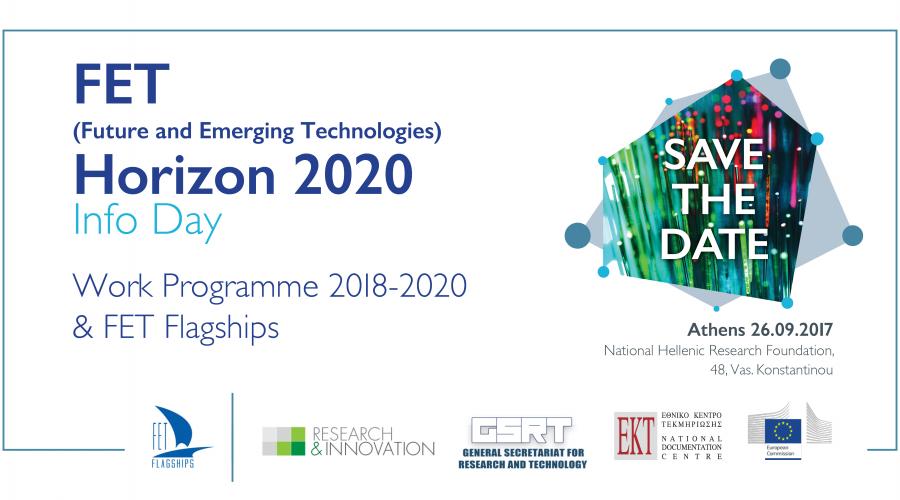 An Info Day, focusing on the actions of FET Flagships, part of the 'Future and Emerging Technologies'(FET) programme Horizon 2020, is being organized by the National Documentation Centre (EKT), National Contact Point for the EU's Horizon 2020 programme, the General Secretariat for Research and Technology and the European Commission ( Directorate General for Communication Networks, Content & Technologies) on Tuesday, September 26th (9:00 – 14:00) at the National Hellenic Research Foundation (48, Vas. Konstantinou, Athens).
The 'Future and Emerging Technologies' (FET) programme supports new cutting-edge technologies by strengthening the competitiveness and development of Europe and creating new highly-skilled jobs. The event, in which National Representatives of the programme and European Commission representatives will participate, will present the initiatives of FET Flagships (Graphene, Human Brain, Quantum), the Work Programme 2018-2020 ( the Greek contribution to this particular programme), as well as the Greek positions for the next programming period (9th Framework Programme for research and innovation).
The FET programme comprises three complementary actions:
'FET Open': supporting ideas for radically new future technologies still at the basic stage and employing few researchers
'FET Proactive': supporting emerging technologies in order to create a critical mass of European researchers in promising exploratory research
'FET Flagships': supporting initiatives through which hundreds of European researchers can join forces to resolve ambitious scientific and technological challenges such as understanding the human brain or the development of new materials like graphene.
Further details about the workshop and registration (participation is free of charge, but completion of a registration form is obligatory) are available at http://www.ekt.gr/en/events/21074. The event will be streamed live via http://media.ekt.gr/live/.
The National Documentation Centre operates as National Contact Point for Horizon 2020 and a number of individual programmes (eg FET programmes), to support  the participation of Greek academic, research and business communities. To cover the entire cycle of research projects, from preparation of proposals to implementation and exploitation of research results, EKT services include: Information and Advisory Services, Helpdesks, Development and Handling of information material, Organisation of events and seminars, Partnership search for the formation of consortia and joint proposals, Charting of Greek participation and the publication of special reports with statistics and performance indicators. 
EKT's series of special reports presents analytical data on Greek participation in Horizon 2020 programmes. The most recent presented the results of Greek participation in the 'Future and Emerging Technologies' (FET), Horizon 2020 calls for the years 2014, 2015 and 2016, with indicators highlighting the most significant aspects of domestic research activities.
www.ekt.gr, with information from National Documentation Centre