An informative presentation by EKT about the EU's new research & innovation programme focusing on the Environment, Digital Technologies and ICT generated considerable interest.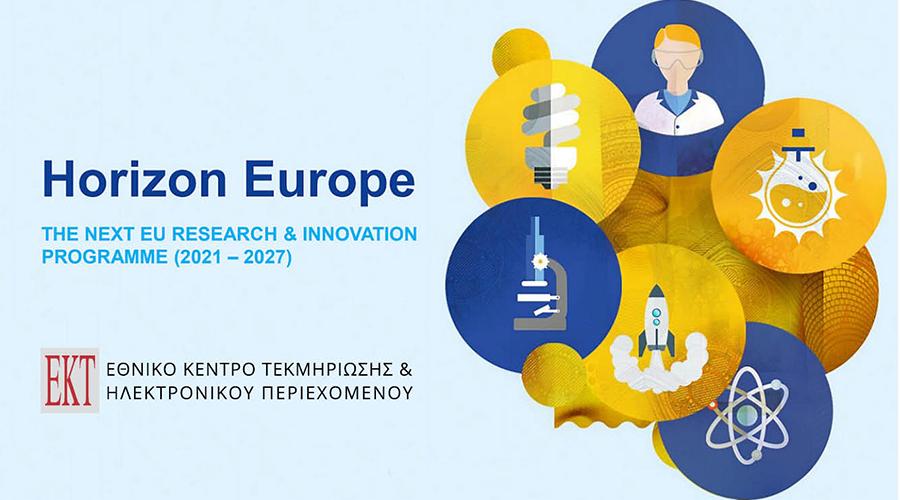 More than 700 stakeholders attended the introduction to Horizon Europe 2020 (2021-2027) given by the National Documentation Centre (EKT) and reported the thematic categories that are of interest to them, thereby providing an indicative picture of the direction of the research community in the next seven years.
Horizon Europe is the new ambitious EU Framework Programme for Research and Innovation. The objective of the new programme is to strengthen the scientific and technological base of the European Union and the European Research Area (ERA) and to stimulate the innovation, competitiveness and employment capacity of Europe with a proposed EU budget of 100 billio in euro.
EKT recently launched an information action on Horizon Europe and more than 700 stakeholders watched the introductory presentation and video. When registering for the online presentation of Horizon Europe, participants were invited to select the thematic category that interested them most. The thematic categories chosen indicated the likely trend of the research community for the next seven years. Participants could choose more than one thematic category.
Based on respondents' replies, the most interesting categories are the Environment, 388 respondents (51.7%) and Digital-ICT, 382 respondents (51%). They were followed by Excellent Science and Energy. Of least interest was Space Research (21.3%). Interest for the 2 programmes under the EIC-European Innovation Council, EIC Accelerator & EIC Pathfinder were chosen by 215 and 168 respondents respectively.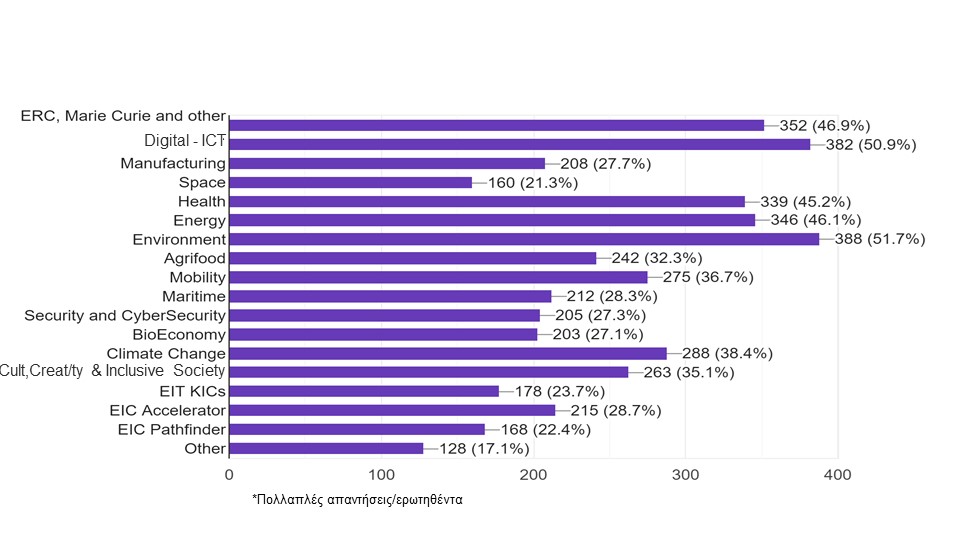 The National Documentation Centre (EKT) operates as National Contact Point for 11 areas of Horizon 2020, supporting Greek organisations in their participation in the programme.
Excellent Science
-European Research Centre (ERC)
-Future and Emerging Technoloies (FET)
-'Marie Sklodowska-Curie' Actions
-Research infrastructures
Industrial leadership
-Access to risk finance
-Information and Communication technologies
Social Challenges
-Health, Demographic Change and Wellbeing
-Secure, Clean and Efficient Energy
-Europe in a changing world- Inclusive, innovative and reflective societies
Horizontal Programmes
-Science with and for society
-Euratom
EKT has extensive experience in competitive EU programmes. Since 1992 it has been a point of communication and information for European Commission-funded research projects, as well as for actions related to the exploitation of research results. Its services are intended for the entire academic, research and business community of the country. It offers Greek organisations a wide range of consulting services for the submission of proposals to Horizon 2020. Its specialised staff, with continuous training from the European Commission and the European Research Council (ERC), and in collaboration with major European research networks, provide information and support for the country's research organisations and businesses.
EKT also documents the participation of Greek research teams in the Horizon 2020 programmes, publishing special reports and studies with detailed data on the performance of Greek institutions within the European financial framework.
www.ekt.gr, with information from ΕΚΤ, European Commission