Meet the 25 top deep tech companies selected for the next phase of the paneuropean competition.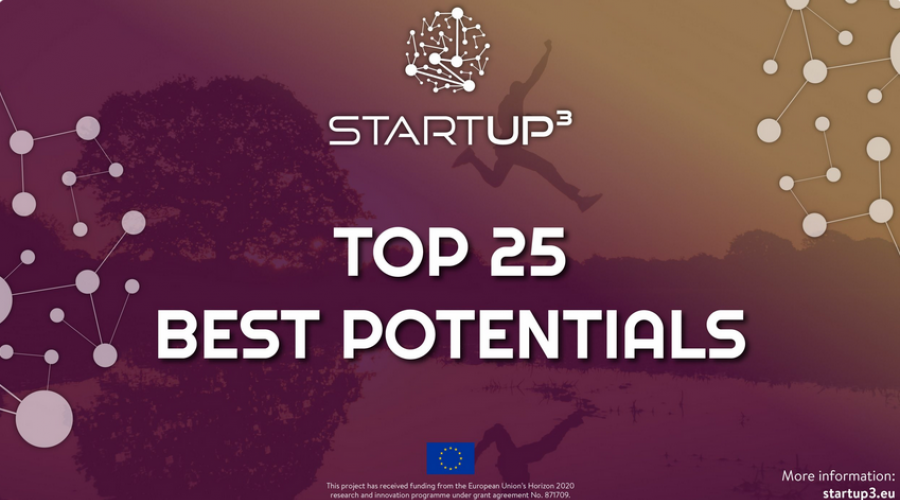 The list of 25 finalist startups and scaleups of the pan-european STARTUP3 competition has been announced. The top 25 really stood out of the 250 deep tech startups and small and medium-sized enterprises participating in the first phase of the competition. Following the completion of the highly successful application process, with 250 applicants from 36 countries the project continued with the Peer-to-Peer voting procedure, where all applicants were both the evaluated and the evaluators.
The original assessment procedure was definitely a singular experience for all the participants in this competition. The co-contestants shared their ideas and chose the best among them in a unique month-long selection journey. At the end of the journey, the 25 leading companies with the most potential for growth emerged.
Among the selected enterprises are three highly innovative Greek companies, Ingredio, Magos and RTsafe, which are now internationally recognised examples of Greek entrepreneurship at a European level.
The 25 finalists will continue their journey in the STARTUP3 project, participating in a complete Business & Growth Accelerator programme. In the second phase of the programme, businesses will receive specific European wide support for the development of their business venture. The aim of the programme is to support these companies so they can become dominant companies in their markets of focus.
Visit their websites to find out more about the 25 enterprises selected for their dynamics and potential for growth. The enterprises come from different sectors and exploit different emerging technologies, such as robotics, Internet of Things, artificial intelligence, agrotech and biotech, smart-cities, Medtech and earth observation.  
The next phase of the STARTUP3 programme provides enterprises with integrated support to upgrade their idea, identify market problems, create the minimum viable product (MVP) and identify their existing technological competitors.
STARTUP3 is a European project in which the National Documentation Centre (EKT) actively participates and was formally launched in February 2020 with this open call. It is funded by Horizon 2020 and is part of the European wide initiative Startup Europe For Growth & Innovation Radar. The STARTUP3 project creates bridges between new dynamic startups and large companies operating within the EU. It offers technological and business support for new ideas that want to find their way to the market, and start-ups are networked and benefit from their interaction with the European business ecosystem. 
Links