During the conference, the 'Knowledge and Partnership Bridges' initiative will be presented, and there will be a discussion with two Greeks who returned in Greece, investing in opportunities emerging in the country.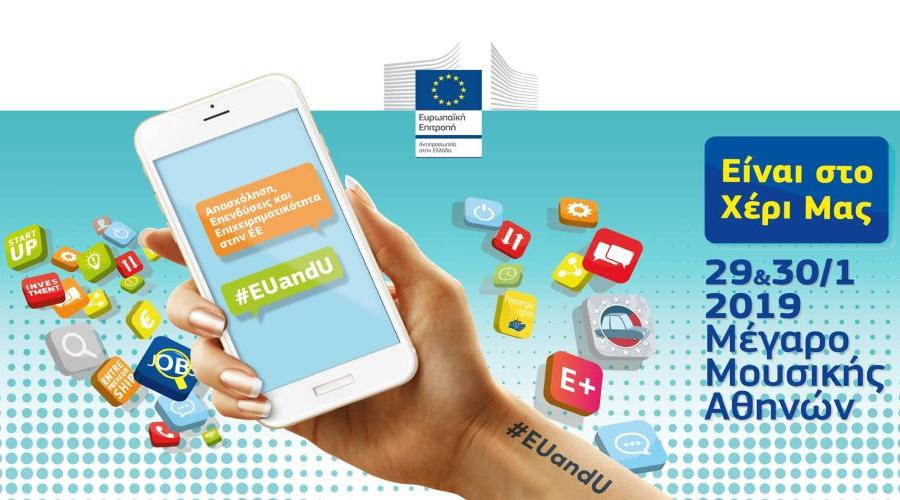 The 'Knowledge and Partnership Bridges' initiative, implemented by the National Documentation Centre (EKT) and based on a plan by the General Secretariat for Strategic and Private Investment, Ministry of Economy and Development, will have a strong presence at the two-day conference 'It's in our hands' about Employment, Investment and Entrepreneurship in the EU, which is being organised by Representatives of the European Commission in Greece on 29 and 30 January 2019 at the Athens Concert Hall.
On the first day, the Vice-President of the European Commission Jyrki Katainen and project leader for 'Jobs, Growth, Investment & Competitiveness' will discuss the actions and policies of the European Commission in these areas. In addition, there will be interesting information sessions focusing on entrepreneurship, one of which will be dedicated to the 'Knowledge and Partnership Bridges' initiative, whose goal is the networking of Greeks worldwide on business, professional and academic levels. In the 45 minutes allotted to this session, attendees will get an idea of what the vision and services offered by the platform www.knowledgebridges.gr are and talk with two Greeks who chose to remain in Greece, investing in opportunities emerging in the country.
The first of these two speakers is Manolis Bambatsikos who studied and, for several years, worked abroad for major companies but still chose to return to Greece and invest in innovative ideas combining two seemingly unrelated sciences-animation and medicine. The second speaker, is Manolis Makris, who, on completing his studies, made the unconventional choice to return to his birth place  Leros where he is responsible for the Greek division of a multinational IT company. What is remarkable is that he has succeeded in selecting employees from all over Greece, and the next goal is to attract Greeks from abroad. The discussion will be moderated by the representative of 'Knowledge and Partnership Bridges', Dimitris Maragkos.
During the conference, representatives of successful start-ups, investors and public bodies will present professional opportunities, and there will be 'world café sessions'- updates and discussions with attendees present at the conference and via internet. The individual information sessions will concentrate on more practical matters such as job interviews, CV preparation, networking, guidance, use of new technology, access to funding and investment opportunities, and give attendees the chance to discuss issues with the representatives.
Registration has already begun at www.euandu.eu/el/registration.
www.ekt.gr, with information from European Commission