Single search and navigation for 723.000 digital documents from 73 collections, in the largest Greek portal for scientific content!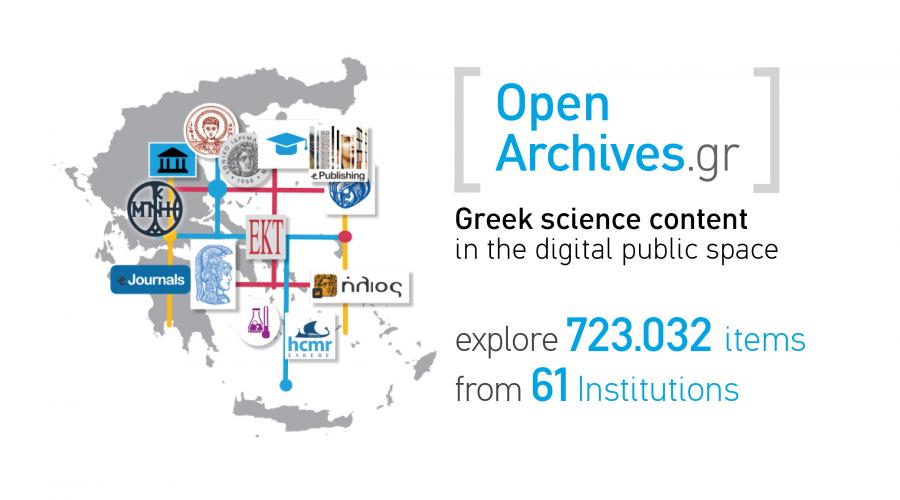 OpenArchives.gr, the largest Greek portal giving access to reliable scientific content, is developed by the National Documentation Centre (EKT) and has already aggregated 723,000 digital documents from 73 collections of 61 organisation. It has recently been upgraded, semantically enriched and has a new layout to better serve the research, educational and scientific communities. EKT used advanced semantic tools and vocabularies to improve the dynamic and friendly environment, navigation and advanced search based on dates and types of material.
At the same time, collections already on the platform were updated. OpenArchives.gr has become a purely scientific platform as cultural content is now hosted on SearchCulture.gr, the Greek aggregator for cultural heritage content.
Visitors to the upgraded OpenArchives.gr can now browse 723.000 digital documents from a single access point and search collections of grey literature from academic institutions and scientific content produced by research, scientific and educational institutions. Doctoral theses, master's theses, books, articles published in scientific journals, conference proceedings, book reviews, interviews and audio-recordings are only some of the content types to be found on the upgraded Open Archives.gr. Among the collections are rare documents published in 1718 such as Istoria delle moderne Rivoluzioni della Valachia!
The scientific content which is indexed in the 73 digital collections of Open Archives.gr  has been collected from individual libraries, archives and institutional repositories online which were difficult for ordinary search engines to locate. Now this content is available through OpenArchives.gr, it is easily searchable and dynamic, and is regularly added to with new collections.
OpenArchive.gr collections come from 61 leading institutions from Greece and Cyprus such as universities, research bodies, scientific societies, public libraries, archives and institution collections. Therefore, the collection content covers a wide variety of subject fields and presents a rich diversity.
Using the search engine, the user can locate books and studies from the Humanities, scientific articles and educational material from the Social Sciences, issues of scientific journals covering the spectrum of both the Natural and agricultural Sciences, theses from Health and Health Science and conference presentations  relating to Engineering and technology.
These bodies gain multiple benefits from participating in the scientific content aggregator Open Archives.gr. The presence of collections available, at a common point viewing and search point, contributes to promoting their content, increases user access to their infrastuctures and facilitates the dissemination of their work.
Major collections of OpenArchives.gr include: the National Archive of PhD Theses, operated by EKT, Helios Repository of the National Hellenic Research Foundation's, the Hellenic Statistical Authority Digital Library (ELSTAT), the Institutional Repository of the Hellenic Open University,Aristotle University of Thessaloniki Library, Digital Library of Grey Literature National& Kapodistrian University of Athens, Digital Library of National Technical University of Athens ,the University of Crete Repository, Repository of TEI Epirus and the Digital Repository Kipseli, Open University of Cyprus.
Scientific institutions can easily participate in OpenArchives.gr and gain an important marketing channel for the dissemination of their collections. This has been made easier with the introduction of two new means of dissemination and exploitation: Web API, which allows third parties to find and view documents hosted on the portal, and Linked Data.
EKT develops and operates OpenArchives.gr in its institutional role, aggregating, organising, documenting and disseminating the country's digital content in compliance with international standards and the current needs of users. Two single search portals for Greek digital content are available: OpenArchives.gr for Greek scientific content and SearchCulture.gr for cultural heritage content. Consequently, Greek scientific and cultural content produced with public funding is showcased and made available with clear reuse rights for researchers, the educational communities and citizens in the public digital space.
www.ekt.gr, with information from Nation Documentation Centre