The event provides an ideal opportunity for businesses from Greece interested in finding potential partners abroad, new customers/suppliers and new technology, as well as for companies from abroad interested in the Greek market.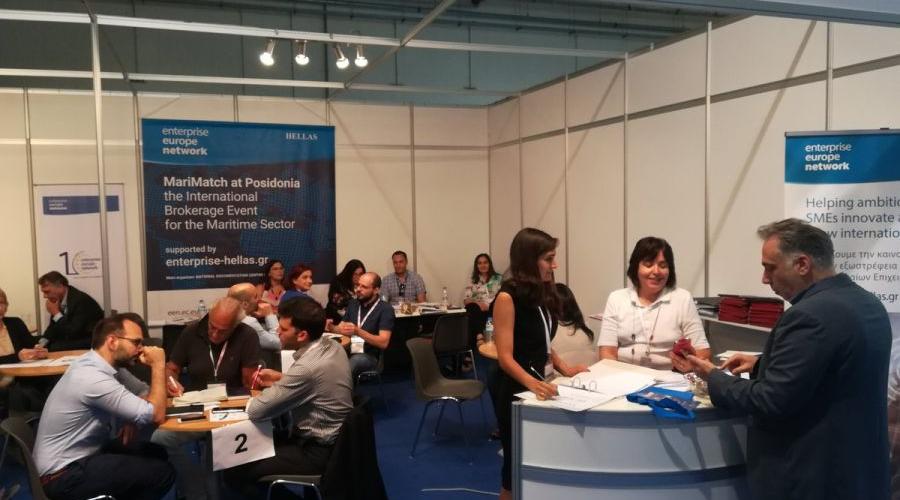 One of the most successful two-day business brokerage meetings in the world of shipping, the Posidonia International Exhibition, organised by Enterprise Europe Network-Hellas, the biggest network in the country for entrepreneurship and innovation, took place on 6 & 7 June 2018. Organisation of the event was an initiative of the National Documentation Centre (EKT), the coordinator of Enterprise Europe Network-Hellas, to help enhance the participation of Greek enterprises and research organisations to conduct international business and research co-operation.
Being held for the third time, the exhibition attracted a large number of interested parties from Greece and abroad, with 113 organisations (66 Greek and 47 foreign countries from 18 countries) holding 275 bilateral meetings in an endeavour to establish commercial, technological or research co-operation.
The event targeted businesses, clusters and research bodies in shippng and resulted in added value for organisations participating in the Posidonia International Exhibition Shipping 2018 (4-8 June). Through pre-arranged bilateral meetings of 30 minutes, participants were able to get together with potential partners from abroad and Greece, find new customers/suppliers, identify innovative technologies and products with a view to their use and create new research partnerships under open calls of the European programme for research and innovation Horizon 2020.
For more than 45 years, the Posidonia International Shipping Exhibition has been the key event for the international shipping community. This year's exhibition broke records, with more than 2,009 exhibitors and the biggest number of visitors in recent years (23,000 from 98 countries).
The sectors covered were:
Shipbuilding & Shipyard Industry
Green shipping
Electronics, communication & navigation
Mechanical and Auxiliary systems
Transport logistics / Ports
Maritime services
Maritime safety & special equipment
Maritime Security
Marine Research, Development & Innovation
Marine bio-economy
Countries with the biggest representation were: Turkey, Cyprus, China, UK and Italy.
Participants showed great interest in the event with the 30-minute meetings continuing for two days from morning to late in the afternoon on 6 & 7 June, at the Enterprise Europe Network-Hellas stand, Exhibition Centre Metropolitan Expo Centre.
Participants, whether from Greece or abroad, were positive in their assessment of the event both in terms of the excellent organisation and the importance of such events in Greece in the shipping sector. They were enthusiastic about having the opportunity to discuss prospects for co-operation in such an important sector for the Greek economy such as shipping. According to their comments, new business and research partnerships between Greek and foreign organisations are expected in the near future.
Note that the event was organised by EKT with the support of the Athens Chamber of Small & Medium Industries, MIRTEC S.A. The Association of Industries of Thessaly and Central Greece and the 'Maritime Industries & Services' group, part of Enterprise Europe Network
www.ekt.gr, with information from National Documentation Centre, Enterprise Europe Network-Hellas