The event will discuss digital transformation in the fields of pharmacy and health due to the adoption of new technologies.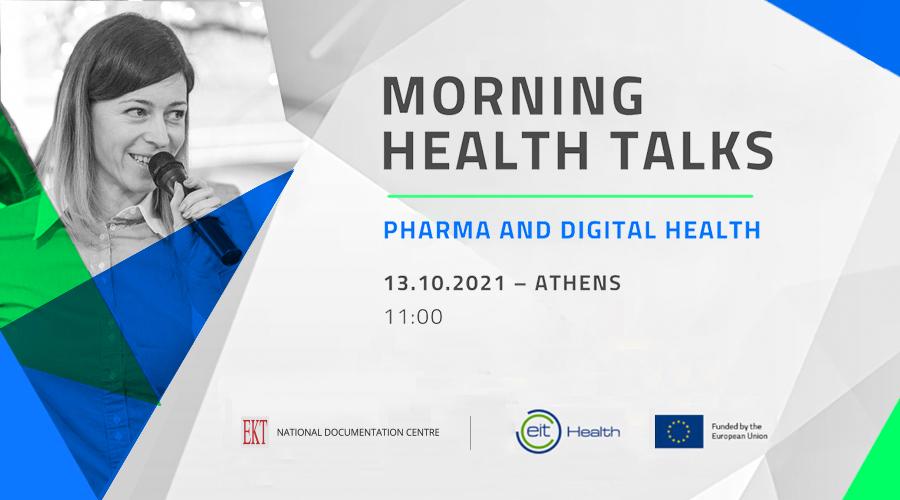 The National Documentation Centre (EKT), the EIT Health hub in Greece, is holding an online discussion and networking event titled Digital Technologies in Pharmacy and Health on Wednesday, October 13, 2021 (11:00 - 12:30).
Digital transformation in the pharmaceutical and healthcare sectors with the adoption of new technologies can have multiple benefits and a positive impact - cost reduction, more efficient use of resources, improved patient experience - as well as benefits across the value chain.
The event particularly targets:
Companies from the pharmaceutical industry, transport / logistics etc. that are interested in digital transformation, the supply of new innovative technologies
Research organisations and academic institutions that are at the forefront of digital technologies for pharmacology and health.
Start-ups in the digital health, biotechnology and pharmaceutical sectors
The purpose of the event is to:
Introduce the new digital innovation hubs for health and pharmaceuticals
Introduce initiatives to support start-ups with digital technologies for the pharmaceutical and health industries
Promote dialogue and networking between participants
Promote mutual understanding of the opportunities, the challenges, the  needs of the stakeholders
Present EIT Health actions and programmes
The event will be in the form of panels in Greek and English. Following the keynote speakers / presentations, there will be time for open discussion.
See the event programme here.
Register here. There will be a strict order of priority.
About EIT Health
EIT Health is one of the largest European public-private partnerships for health innovation. With around 150 partners, EIT Health is a unique European network of leading companies, universities, research and development centers, institutes and health facilities. The role of EIT Health is to build an ecosystem that fosters the development of healthcare for a healthier future for European citizens. The National Documentation Centre  (EKT) is the EIT Health hub in Greece.
EKT in the innovation ecosystem
EKT, a public interest body overseen by the Ministry of Digital Governance, supports organisations and businesses focused on the new data economy. It is the first Digital Innovation Hub (DIH) in Greece to be  registered in the European Commission list.
With combined value-added services, EKT supports the Greek research and business community to excel and grow internationally. As the National Horizon Contact Point for Horizon Europe, for Health, Digital Technologies, Industry and Space thematic groups and Marie Skłodowska-Curie Actions (MSCA), it supports organisations, businesses, academia and research from identifying funding opportunities to drafting and submitting proposals, the implementation of projects and the exploitation of research results. As co-ordinator of the Greek node of the Enterprise Europe Network, the largest business support network in the world, it provides services complementary to those of the National Contact Points, for international networking and search for business and technology collaborations, technology transfer and innovation, access to European funding and partner finding for participation in research proposals.
www.ekt.gr, with information from ΕΚΤ, EIT Health