Twelve distinguished speakers from Greece and abroad, representing academic, research and business communities, shared their experiences and knowledge with approximately 2,000 young Greek and Cypriot scientists who attended the seminars from 22 countries.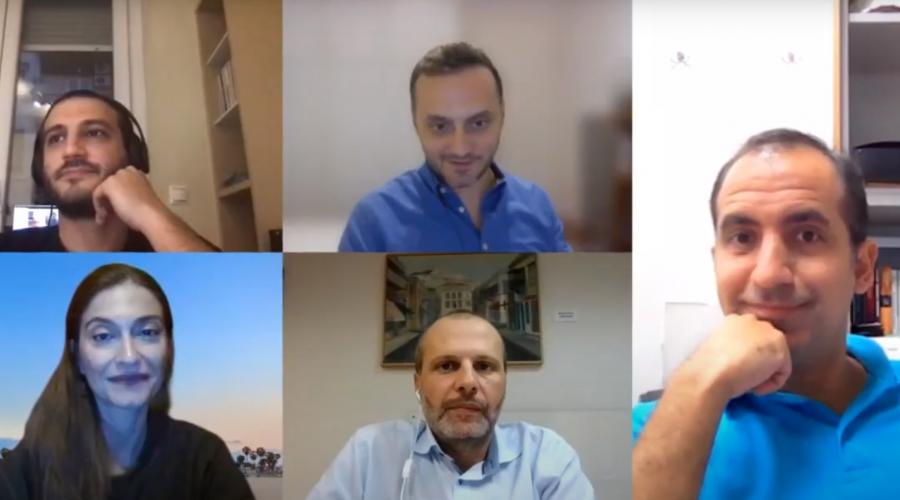 The second round of webinars 'Real Skills for Scientists - Computer Science' was held by the National Documentation Centre (EKT) under the Knowledge and Partnership Bridges Initiative, in collaboration with R.E.A.L. Science and the Research and Innovation Foundation, Cyprus. In the three webinars of the series, which aimed to develop personal skills for the professional careers of young researchers and scientists, participants had the opportunity to hear useful advice and question experienced and renowned researchers from Greece and abroad.
The response was overwhelming, as approximately 2,000 undergraduate and postgraduate students, PhD candidates, postdoctoral fellows, faculty members and researchers of all levels attended the live webinars. The audience consisted of Greeks and Cypriots who came from 22 countries, including Germany, the United Kingdom, France, Italy, Finland, Ireland, Sweden, Switzerland, Canada, Japan, USA, Chile, United Arab Emirates - professionals, students and researchers working and/or studying abroad.
1st Webinar - Enhancement of CV and skills
This round of webinars started on October 8, 2020 with 4 young scientists from the field of Computer Science, who began their studies in Greece and gained professional recognition in their field in both Greece and foreign countries. Dr. Marili Nika, Speech AI Product Manager at Google USA, Manolis Babatsikos, Founder 3D VR / AR Medical Visualisation Specialist at 3DMedWorld, Manolis Makris, Frontend Developer at Datawise Data Engineering LLC and Dr. Marilia Kissa, Applied data scientist at Group nine media in San Francisco, shared their experiences and talked about creating a CV, the conditions that must be met for a career, the importance of internships, volunteer work and mobility programmes.
During her presentation, Dr. Marili Nika talked about her career from the Department of Maritime Studies, University of Piraeus to information technology and artificial intelligence at Google, based in California, and the efforts  that led to her professional success and recognition.
Manolis Makris from Greek island Leros, where he works for a multinational American company, not only emphasised the soft skills of computer scientists but also vital 'secrets' for computer juniors, while Manolis Babatsikos talked about his idea to combine animation with medicine, identifying and filling a gap that existed in the field of health, and finally about making his dream come true by establishing his own specialised company.
Finally, Dr. Marilia Kissa talked about her decision to change career direction, the power of networking and communication in her professional career, and the importance of loving the subject of your studies and work.
2nd Webinar - Funding and career opportunities for young researchers 
The second webinar, which took place on October 15, 2020, co-organised by the Ministry of Development and Investment and the NSRF, provided useful job search tips and information on funding sources. Taking part were representatives from institutions and organisations, including George Megas, Innovation Advisor at EKT and National Contact Point on Horizon 2020 for ICT and Enterprise Europe Network Innovation Expert; George Papavassiliou, Founding Partner & CTO of Avlos; Dr. Panagiotis Kolios,  Assistant Research Professor, KIOS Research and Innovation Centre of Excellence, University of Cyprus and Panagiotis Sakellis, Assistant Special Secretary Ministry of Development & Investment.
In his presentation, George Megas detailed the funding opportunities of the EU Horizon 2020 framework programme and in the next programme, Horizon Europe, and encouraged scientists to take advantage of the tools, technologies and platforms that are offered.
George Papavassiliou talked about his experience of turning from music studies to mathematical codes and the field of information technology, then finally to the establishment of his own company in the US, the  activities of which he transferred to Greece. Dr. Panagiotis Kolios, expert on drone applications, with honours and innovation awards as well as  a significant grant from the Republic of Cyprus, talked about the development of his research, from design to technological maturity and his study on the use of this technology in the market.
Finally, Panagiotis Sakellis presented the programmes provided by the Special Secretariat for the Management of NSRF Programmes, in particular the EPANEK programmes and tools, which aim to strengthen a new productive model, focusing on competitive and outreach sectors of the economy with high added value and the potential for creating sustainable and quality jobs. 'Our goal is to support people so they can turn what they have studied into business,'  said Panagiotis Sakellis.
Watch the 2nd webinar with presentations and Q&A session 
3rd Webinar – Networking and community building
The third and final webinar took place on October 22, 2020, and focused on networking and building a community of scientists as tools for a professional career. Speakers included Dr. Nikolaos Mavridis, PhD, Massachusetts Institute of Technology (MIT) and Assistant Professor and Director of the Laboratory of Interactive Robots and Multimedia (IRML) at the University of the United Arab Emirates, Giorgos Kourakos,Event Organiser - Project Manager at Digital Expo (KMS Productions), Daphne Vitsikounaki, Commercial and Financial Attaché at the Greek Consulate in San Francisco, USA and Rigas Zapounidis, Electronic Engineer and Computer Engineer, Secretary of the Hellenic Association of Scientists in Munich.
Dr. Nikolaos Mavridis from the United Arab Emirates was the first to look at the job opportunities in Greece and abroad in the field of Artificial Intelligence and Robotics and encouraged the audience to take advantage of networks and all the opportunities presented in the life of a scientist. The next speaker, George Kourakos, also focused on the importance of networking for professional success, outlining the steps to success.
Daphne Vitsikounaki explained how, through her role as Commercial and Financial Attaché at the Greek Consulate in San Francisco, she facilitates collaborations between Greek companies and companies in Silicon Valley and presented networking groups and actions in the US that can facilitate collaboration and networking for Greeks. Finally, Rigas Zapounidis, based on his experience and his role as secretary of the Hellenic Union of Scientists in Munich, presented the advantages and networking opportunities in Germany.
The webinars were co-ordinated by Dimitris Maragos, co-ordinator of the Knowledge and Partnership Bridges initiative implemented by EKT, Dr. Nancy Megremi, National Documentation Centre, and Dr. Eleni Sinopoulou, founder of the scientific  platform R.E.A.L. Science.
Throughout the three webinars, the audience had the opportunity to ask the speakers live questions, which were answered at the end of each seminar. In addition, participants could take part in interactive polls about their field of study, the grants/scholarships they have received, and the country from where they were attending.
A number of figures are worth noting. Approximately 57% of the participants came from the Engineering Sciences, 15% from the Humanities, 12% from the Natural Sciences, while 11% from Medicine and Health Sciences. 46% were undergraduate students, 15% postgraduate students and 15% doctoral candidates, 5% and 6% doctoral and postdoctoral students respectively and 2.5% faculty members.
The poll also gathered demographic data for the areas from which Greeks and Cypriots attended the event. 27% were connected from Attica, 19% from Epirus, 11.5% from Western Macedonia, 7.7% from Eastern Macedonia and Thrace, 7.7% from Thessaly, 6.7% from Crete, 3% from Cyprus and there were participations from Germany, Italy, USA, Chile, etc. Responding to the great interest of Greek  Scientists, EKT is already planning the next series of seminars, which will take place in January 2021, and this time will focus on the Humanities. In order to organise more efficient and targeted seminars in the future, please fill out the feedback form that can be found here.
About the co-organisers
National  Documentation Centre (EKT)
EKT, a supervised body of the Ministry of Digital Governance, plays an active role in the National Coalition for Digital Skills and Jobs. In collaboration with reputable bodies and in ongoing dialogue with the educational, research and academic community, EKT develops infrastructure and services, promoting knowledge, research and innovation in the digital space. IT is also the co-ordinator of the Knowledge and Partnership Bridges initiative for the networking and collaboration of Greek scientists, researchers and professionals around the world.
R.E.A.L. Science
R.E.A.L. Science is a career guidance platform for schools and, soon, universities in which Greek volunteer scientists from Greece and around the world participate. The leader and creator of this voluntary action is the neuroscientist Dr. Eleni Sinopoulou, who works at the University of California in San Diego, USA.
Research and Innovation Foundation
The Research and Innovation Foundation (RIF) is the national body responsible for supporting and promoting research, technological development and innovation in Cyprus. Its mission is to shape the conditions that favour the development of research, technology and innovation in Cyprus.Through innovative actions and programmes, it strengthens the domestic ecosystem of research and innovation, contributes to strengthening the competitiveness of the Cypriot economy and develops co-operation and interconnection with the international research and business community.
www.ekt.gr, with information from ΕΚΤ