The programme is open to startups developing solutions which will make a decisive contribution to the pharmaceutical industry and improve the health of patients suffering from chronic illnesses.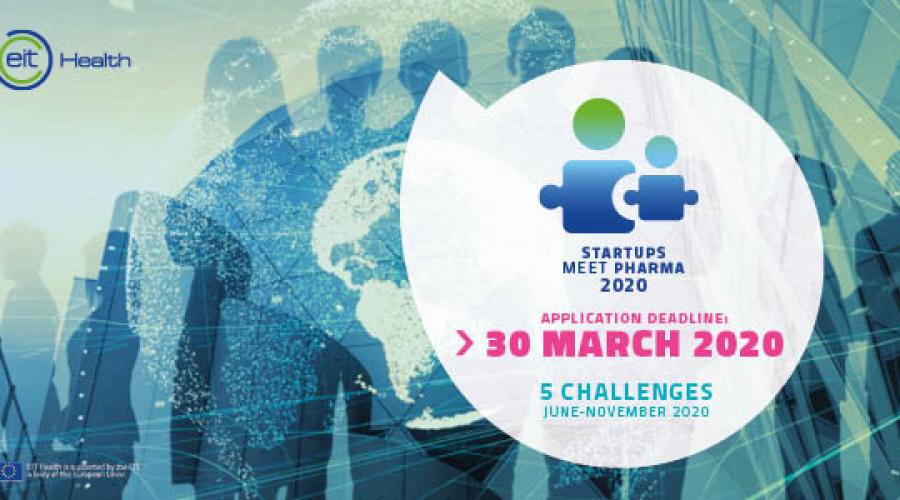 The new EIT Health programme 'Startups Meet Pharma' aims to bring together startups developing innovative solutions for chronic illnesses, and leading European pharma partners.
The programme was first launched in 2019 with the participation of 14 startups from across Europe that tackled 5 different health challenges in co-operation with the EIT Health partners, Amgen, Bayer, Ferrer, Janssen and UCB.
Further information can be found here.
For 2020, 5 different health challenges have been announced in collaboration with the EIT Health partners: Amgen, Bayer, Beiersdorf and Boehringer Ingelheim. The startups  selected will receive a grant to cover  travel and accommodation expenses and mentoring services through the Mentoring and Coaching Network Platform.
Applications should be made through the EIT Health Optimy platform before March 30, 2020, while more information about the programme and the conditions of participation can be found on the EIT Health website.
EKT and the innovation ecosystem
The National Documentation Centre (EKT) is the National Contact Point for Horizon 2020, the European programme for research and innovation and co-ordinator for Enterprise Europe Network – Hellas, the Greek node of Enterprise Europe Network, the biggest global network supporting enterprises.
EKT is also the Greek hub for EIT Health the initiative of the European Institute of Innovation and Technology. EIT Health is one of the largest funded initiatives supporting innovation in the health sector. It is a unique European network of leading companies, universities, research and development centres, institutes and health units. It supports businesses, research centres and young digital health researchers to develop their ideas and create innovative products and services that improve the lives and health of Europe's citizens.
www.ekt.gr, with information from EIT Health, ΕΚΤ