The Festival will be a meeting place for the exchange of expertise in the planning of integrated sustainable business development models.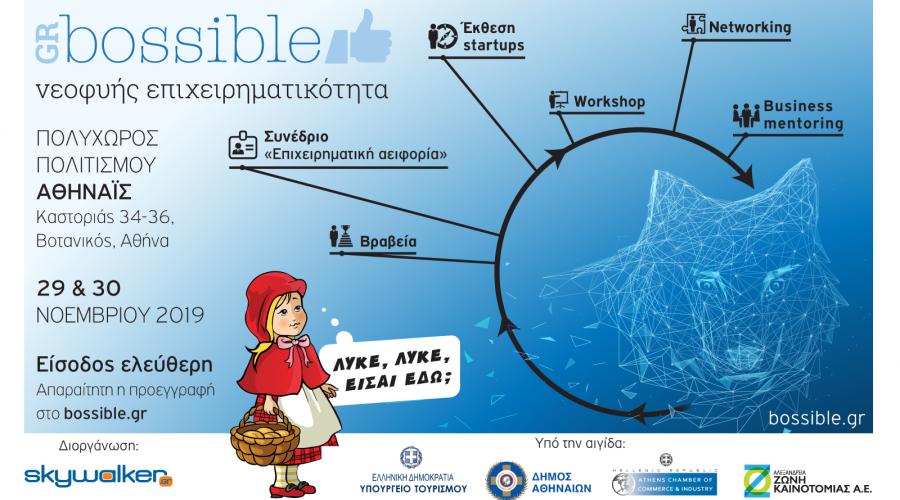 The Business Startup Festival GRBossible will be held this year at the Athinais 'Multiplex' Cultural Centre on 29 and 30 November 2019. The festival will focus on one of the major issues facing the global economy and the business community, namely business sustainability and the new circular economy production model.
The purpose of GRBossible is to promote and support new business initiatives, as well as communication, networking and co-operation  across the entire business ecosystem in an environment rich in information. During the two days of GRBossible, visitors will have the opportunity to attend and actively participate in a number of activities:
A conference on 'Business Sustainability'- keynote speaker Konstantinos Aravosis, Secretary General for Natural Environment and Water representing the Prime Minister Kyriakos Mitsotakis
26 entrepreneurship workshops. Links for the corresponding videos: Friday 29/11  Saturday 30/11 .
Business networking opportunities with the entire business ecosystem
Exhibition of startups
Corner support for start-up companies "Business mentoring" by KEMEL
GRBossible Entrepreneurship Awards
Presentation of the book 'Thoughts on Local Development' Dimitris Michailidis, Stentoras publications.
The festival is open to young entrepreneurs and to all those keen to explore business possibilities and prospects across the entire business ecosystem, which, through its expertise, supports and leverages Greek business startups.
For the detailed programme and application forms please visit www.bossible.gr.
Use this link for GRBossible Videos.
The Festival is being organised by Skywalker.gr under the auspices of the Ministry of Tourism, the City of Athens, the Commercial & Industrial Chamber of Athens and Alexander Innovation Zone. Admission is free.
The National Documentation Centre (EKT) is a Community Supporter of the Festival and will be represented at the event by Barbara Vasilaki, EKT Innovation Advisor, who will participate in the panel discussion,'The production model of the circular economy v the conventional linear model'"(Friday 29/11/2019, 11:30 - 13:00).
www.ekt.gr, with information from Skywalker.gr, ΕΚΤ
Links