The goal of the competition is to foster and strengthen innovative entrepreneurship in the area of aromatic and medicinal plants, from cultivation and production to creation and commercial exploitation of new products from aromatic plants and oils.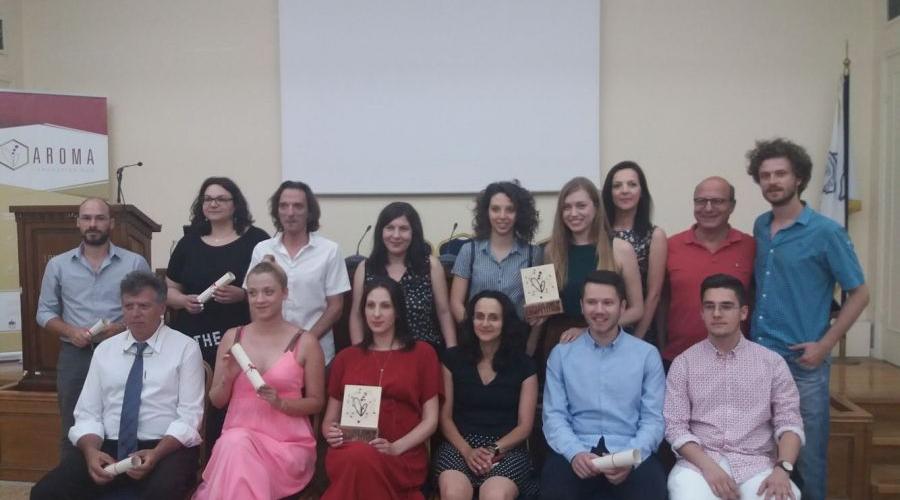 At a well-attended presentation of winning projects, winners of the 1st National Aroma Hub Competition, ' Innovation in the Production and Exploitation of Aromatic and Medicinal Plants', received their awards. The event was held on Friday 1st June 2018 at the Chamber of Achaia Prefecture.
The National Documentation Centre, as a competition sponsor, has already put into effect their awards of advisory and technology transfer services covering such matters as technology transfer terms for setting up spin-offs, research and business collaboration agreements, critical issues etc.
Speakers opening the event emphasised the need to incorporate innovation into businesses in this particular sector and the importance of creating an innovative and interdisciplinary ecosystem.
Followed the opening speeches, there was a presentation of the competition, the sponsors, the judges and the winners. 17 valid proposals from all over Greece were submitted to the competition, 9 in the innovative entrepreneurial idea category, 7 in the start-up category (active for less than 5 years) and 1 in the 5-7 year category. Each of the two judging panels consisted of three members with George Megas from EKT sitting on that of the second category.
In the start-up category, 1st prize went to HYSSOPUS ORGANICS for their novel multiple use of aromatic and medicinal plants. 2nd prize was awarded to MOLY THE MYTHIC ANTIDOTE for the process of creating mixtures without the addition of artificial sweeteners. 3rd prize was shared by 'life secrets pure nature' and 'natural-extracts cosmetics'.
1st prize in the innovative entrepreneurial idea category was awarded to AgroMist, a group of Pharmaceutical students from Patras University, who used beneficial plant extracts as natural additives in electronic cigarette refill liquid. O|H| LIVE, a group of post-graduates from Athens, was given 2nd prize for creating infusions in capsule form which can be used in Nespresso machines. 3rd prize went to Sotman Aloe from Patras.
A special award was given to STEVIA HELLAS CO-OPERATIVE, an innovative agricultural co-operative based in Lamia which is the only producer of stevia in Europe.
Several of the prizes awarded, particularly for the 2nd category, were contributed by the National Documentation Centre. The full list of prizes for the innovative entrepreneurial idea (individuals or teams who haven't establish a company) are:
1st prize:
Scientific consulting and laboratory analyses from AROMA HUB
Technology transfer consultancy (terms of spin offs, research and business collaboration agreements, critical issues, etc.) from the National Documentation Centre
Incubation services (next incubation round) by Orange Grove Patras
One licence of specialised software (for six months) by the company InSyBio (Intelligent Systems Biology)
One licence (for 12 months) for the Search Platform for investors In4Capital
2nd prize:
One licence (for three months) by the company InSyBio.
Technology transfer consultancy (terms of spin offs, research and business collaboration agreements, critical issues, etc.) from the National Documentation Centre
3rd prize:
Technology transfer consultancy (terms of spin offs, research and business collaboration agreements, critical issues, etc.) from the National Documentation Centre
The prizes for the start-up category (active for up to five years) are:
1st prize:
Support of the French-Greek Innovation Network MAZINNOV
Scientific consulting and laboratory analyses from AROMA HUB
Branding identity from TOPIA Architects
Construction of a website και education on the efficient use of social platforms from TROPOS BRANDING
A voucher for using the Improve Innovation Benchmarking Assessment Tool from the National Documentation Center
Consulting for participating in the Horizon 2020 R&D programs from the National Documentation Centre
One license (for 12 months) for the Search Platform for investors In4Capital
Services for the European Inno4agrifood program from the National Documentation Centre
2nd and 3rd prize:
Two vouchers for using the Improve Innovation Benchmarking Assessment Tool from the National Documentation Centre
Services for the European Inno4agrifood program from the National Documentation Centre
www.ekt.gr, with information from Aroma Innovation Hub, National Documentation Centre