European distinction for a Greek consortium and its proposal for an innovative device in the field of healthcare.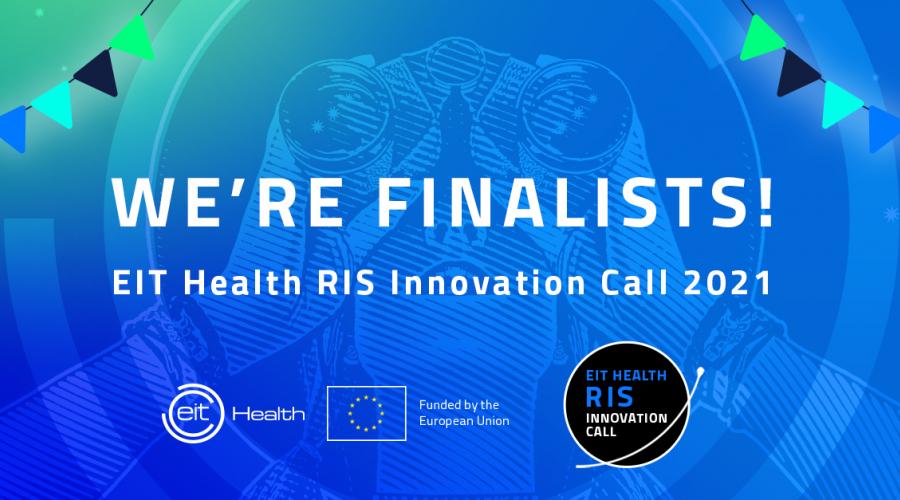 Eleven proposals that contribute to improving the quality of life of patients were selected in the 3rd call of the EIT Health RIS Innovation Call programme, a unique initiative to strengthen and develop regional health innovations. Altogether, more than a hundred proposals were submitted. The best consortia from Slovenia, Portugal, Latvia, Greece, Croatia, Slovakia and Italy will, through EIT Health, receive funding of up to 75,000 euros each, as well as guidance and access to Europe's largest network of leading experts in the fields of health and healthcare.
This year, the level of maturity of the submitted proposals was higher compared to the previous two calls. All of the proposals submitted address the most pressing health challenges facing society today, but the three areas that dominated the stage were: home care and health solutions,  improving health and longevity and workplace health (46%,36%,18% respectively). Greece submitted the most proposals (6) with a score of over 80%, receiving recognition for their excellence even though not all  were in the final 11 selected.
The Greek proposal that was included in the eleven best innovative solutions, is a 'smart' portable device with two applications, consisting of a wrist bracelet and a chest electrode (chest-patch), which offers continuous home monitoring of patients with acute and chronic cardiorespiratory problems. The device, designed to provide continuous 24-hour monitoring, is suitable for monitoring all vital signs of the patient, recording blood pressure, heart rate and vital signs.
The Greek solution aims at the remote treatment of serious cardiorespiratory problems, offering a 'smart' system for monitoring the patient's health. Click here to see the co-ordinator of the Greek consortium Dr. Nikolaos Chaliasos at the recent EKT Morning Health Talks event: Hospitals & Startups, where he was the keynote speaker.
"The success rate of the submitted applications is the highest in the programme's history. The quality of the solutions significantly increased, which might be a signal that the business readiness level of the teams from emerging regions has been improving. Young researchers are better and better equipped with knowledge, skills, and abilities of transforming healthcare ideas into marketable products and solutions. They are also better skilled in creating consortia of industry, academia, and R&D partners. This is a great milestone in bridging innovation gap in Europe" – said Mónika Tóth, EIT Health InnoStars RIS Programme Manager.
"This year we've also noticed the record number of ideas that support healthcare delivery in homes and away from hospitals, improving health outcome. This is extremely important especially in the context of integration of health and social care and releasing pressure on hospital services. We are happy to support innovators from Central, Eastern or Southern Europe who help us boost 'out-of-hospital' care and work on healthy environments" – added Mónika Tóth.
Slovenia (3), Portugal (2) and Latvia (2) were the most successful countries in terms of distinguished joint ventures. Other projects to be supported by EIT Health come from Greece, Italy, Slovakia, and Croatia, with a consortium from each country. Almost a third of the projects concern Artificial Intelligence or Big Data.
The 11 projects that will be supported by EIT Health RIS Innovation Call 2021:
Continuous 'at home' monitoring for acute and chronic cardiorespiratory disease patients (Greece): a wearable device allows monitoring of vital signs, paired with a customised physician-facing portal and a patient app, augmented with artificial intelligence.
CryoHolder (Slovenia): a unique tool that enables quick, more efficient, and safe transfer of frozen cryovials. It can work with liquid nitrogen and also handle sterilisation in an autoclave at 121°C.
ESAIA – Early Stage Ear Infection Assessment (Portugal): a non-invasive medical device, called Otitest, evaluates the colour of the inner ear and eardrum, using an RGB sensor, for early-stage ear infection assessment.
FRoom (Slovenia): an all-in-one solution for home physiotherapy exercise programmes combining innovative technologies and expert design.
Hermes (Italy): a wearable device provides a near hermetic seal in an ergonomic system with battery operated filters, to give individual protection against exposure to contaminated droplets.
Koatum (Latvia): a multiple-layer hybrid coating for medical implants with the ability of drug delivery. The three layers of the coating provide metal isolation, bioactive properties and delivery of a drug with antibacterial properties to promote the body's acceptance of the implant.
Laboratory diagnostics from the patient's home with a doctor's remote consultation (Slovenia): an online diagnostic platform for testing sexually transmitted infections allows patients to order the tests, take their own urine, swab or finger-prick sample, and send it in for analysis, followed by remote consultation if needed.
Mindaux (MAX) (Portugal): a digital therapeutics social platform to create healthier workplaces, using personalised electronic cognitive behavioural therapy.
O2-CPAP add-on (Latvia): an add-on module for CPAP devices that helps patients with obstructive sleep apnoea (OSA) by controlling the oxygen concentration, enabling oxygen supplies to be adjusted while monitoring the patient.
Remote monitoring of patients with cardiovascular diseases and SARS-CoV-2 (Slovakia): telemonitoring solution for patients with hypertension, dyslipidaemia, obesity, and/or high cardiovascular risk, and a SARS-CoV-2 positive test. The solution supports reduction of interventions or visits to the doctor.
Stuey (Croatia): an assistive technology solution that helps people who stutter make phone calls with pre-recorded lines that are transmitted to the call with a high level of speech reality.Τα επιχορηγούμενα έργα που θα υποστηριχτούν, είναι τα πιο κάτω:
Find out more about the chosen projects here.
About EIT Health RIS Innovation Call
The EIT Health RIS Innovation Call aims to fund high quality projects from local consortia consisting of local academic institutions, industry partners, healthcare institutions and research teams. The projects are  developed in collaboration with EIT Health hubs, the local organisations that support the development of regional ecosystems: the University of Porto and the University of Evora in Portugal, the University of Ljubljana in Slovenia, the Arca consortium in Italy, the National Documentation Centre (EKT) in Greece, the University of Zagreb in Croatia, the University of Riga in Latvia, and T-Systems in Slovakia.Each selected project receives up to 75,000 euros for further development of the innovative product or solution it has proposed.
About EIT Health
EIT Health is one of the largest European public-private partnerships for health innovation. With around 150 partners, EIT Health is a unique European network of leading companies, universities, research and development centres, institutes and health facilities. The role of EIT Health is to build an ecosystem that fosters the development of healthcare for a healthier future for European citizens. The National Documentation Centre (EKT) is the hub of EIT Health in Greece.
About EIT Health InnoStars
The InnoStars Collaborative Formation is one of the seven geographic units of EIT Health. It covers half of Europe, including Poland, Hungary, Italy and Portugal, as well as additional regions included in the EIT Regional Innovation Programme - the Baltic States, Croatia, Slovakia, the Czech Republic, Slovenia, Greece and Romania. Together, they constitute a group of countries that are characterised as moderately innovative in the European Innovation Scoreboard. InnoStars focuses on promoting entrepreneurship, innovation and education in healthcare, healthy living and active ageing, and reducing the gap between pioneers and emerging regions.
About EIT Regional Innovation Scheme Programme (EIT RIS)
The EIT Regional Innovation System (EIT RIS) was set up by the European Institute of Innovation and Technology to help reduce the gap between high-innovation European regions and regions that are improving their ranking.To implement the programme, local innovation hubs, EIT Health Hubs, were created. The programme for the field of healthcare has been evolving since 2016 and is co-ordinated by EIT Health InnoStars. It incorporates 13 EIT Health Hubs located in 12 countries throughout Eastern, Central and Southern Europe. These hubs, including EKT, serve as access points to the EIT Health pan-European network, which includes leading universities, research institutes and companies in the field of health and innovation. The programme aims to help the areas where it is implemented to discover their innovative elements and then to mobilise innovative researchers and start-ups to participate in pan-European programmes and competitions.The National Documentation Centre (EKT) is the hub of EIT Health in Greece.
For more information, you can contact George Megas, Co-ordinator of the Greek node EIT Health, EKT
+30 698 261 2266 | e-mail: megas@ekt.gr
www.ekt.gr, with information from EIT Health, EKT