Find hundreds of traditional costumes from Kastelorizo, Skopelos, Zagori, Epirus, Kastoria, Metsovo, Rhodes, Chios, Tilos, Aetolia-Acarnania and other areas on SearchCulture.gr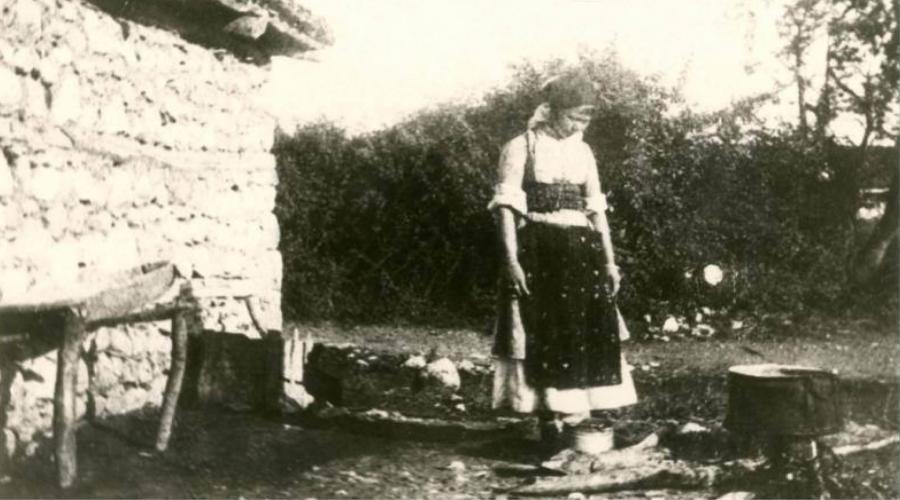 No aspect of tradition is more beloved to Greeks than local folk costumes. We see them worn for village celebrations, kept in a trunk as treasured keepsakes or hung in museum display cases. Adorned with colourful and detailed embroidery, these handmade garments connect us with our ancestors who made and wore them. In SearchCulture.gr, the national cultural aggregator, developed by the National Documentation Centre (EKT), you can explore hundreds of costumes from all over Greece, perhaps even finding costumes from your own place of origin.
In traditional Greek culture, each female costume contains messages that are known and interpreted by members of the community to indicate if a woman is single or married, newly-wed, has children or is a widow. Wedding dresses in particular were chosen to present the bride's family in the best light, in terms of wealth and social status. It was expected for them to carry all these symbols and messages through decorations, layering, colours and fabrics. An example of this complex symbolism is the more than 40 motifs that adorn Thracian Sarakatsani costumes. Any combination of these motifs indicates not only the place of origin, but also social status, profession and detailed marital status. For the most special occasion in women's lives, their wedding, bridal costumes were made by hand, using the best and rarest luxurious fabrics available, depending on the region. In urban areas, they preferred gold, while in villages they went overboard with colour, with a particular emphasis on red. The bridal costume had a lot of layers and its materials usually included wool, which is pretty heavy. Together with the headdress, the silver or gold-plated belt and the assortment of jewellery, the costume would weigh around 30 kilos, probably making the 'special day' a very uncomfortable experience for the bride. Sometimes, aspects of the bridal costume originate back to ancient times, such as the Roumlouki region, where the style of the headdress is supposed to date from the time of Alexander the Great.Tradition has it that he honoured women for their courage as helpers in battle by letting them wear his warriors' helmets.
Explore the digital collection of  the Historical &  Ethnological Society of Greece (NHM) and browse through costumes from Kastellorizo, Skopelos, Zagori, Epirus, Kastoria, Metsovo, Kerasounta, Rhodes, Chios, Tilos, Aetolia-Acarnania and  Asia Minor. In the collection of the Municipality of Mandra-Eidyllias,  discover not only  the historical Roumlouki costume but also Karagouna, Sarakatsana and Souli costumes. Last but not least, visit the digital collection of the Public Central Library of Veria and browse more than 100 traditional costumes.
SearchCulture.gr also features the collection of the Folklore and Ethnological Museum of Macedonia-Thrace, which contains 345 records of traditional culture and our recent past. You can also search for examples of traditional culture in the digital collections of the Hellenic Literary and Historical Archive (ELIA) of the National Bank of Greece Culktural Foundation (MIET), the Peloponnesian Folklore Foundation 'Vassilios Papantoniou' (PLI), the Historical Archive of Greek Refugees,Municipality of Kalamaria, the Aikaterini Laskaridis Foundation and the American Agricultural School of Thessaloniki.
Explore some traditional costumes from SearchCulture.gr 
ΕΚΤ and the digital public space for culture
EKT collaborates with leading organisations to promote the idea of a digital public space for culture produced in Greece. The online portal SearchCulture.gr collects items from important collections to constantly expand available cultural content. At the same time, EKT contributes to the promotion of Greek culture through the European Digital Library Europeana. EKT's objective is to share knowledge with minimum restrictions, create new ways of understanding modern civilisation and cultural heritage, and ensure citizens' access to public cultural property.
If you have digital cultural collections, find out about the benefits and how to integrate your collections in SearchCulture.gr and become a member of a strong network of cultural institutions!
*Article photo | Woman in traditional Costume. Veria Central Public Library ( In Copyright (InC).
www.ekt.gr, with information from SearchCulture.gr, ΕΚΤ