The library recently upgraded to openABEKT cloud service, after using EKT's ABEKT software for decades. The new collaboration between Lamia Central Public Library and EKT heralds a new era for the Library and its users.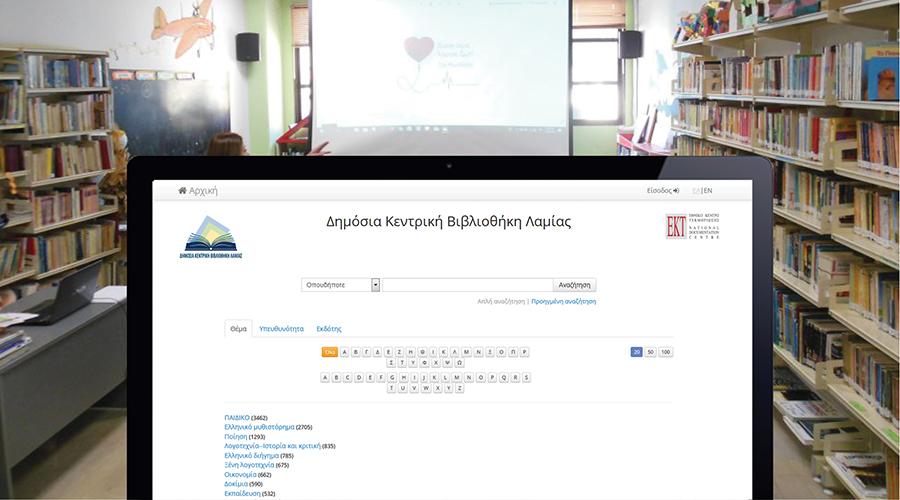 The catalogue of Lamia Central Public Library is now hosted by the National Documentation Center's openABEKT cloud service. The library catalogue is now online, ensuring the library has a presence in the digital public space and simultaneously accelerating its operational transformation.
In operation for 66 years with more than 4,000 active members and thousands of transactions annually, Lamia Central Public Library plays an important role in promoting information literacy and cultivating love of reading among the local communities in mainland Greece.
Its collection, which is constantly growing, numbers about 75,000 records. It also has a rich collection of audiovisual material and has had a Mobile Unit which serves remote communities in the areasince 1979. The Library hosts a schedule of innovative activities for children and adults, publishes books for children and organises reading groups.
The collaboration between EKT and the Library began in the 90s, when the Library first used ABEKT, the proprietary Integrated Library System (ILS) EKT developed. The transition to the cloud service for catalogue management and library functions is a vital step in serving the current needs of its users, at the same time ensuring cost effectiveness and lower operation costs.
The Library received EKT's Content Migration Service, which all public libraries in openABEKT are provided with, to transfer their database from ABEKT 5.6. This service includes standard validations, automatic corrections and data enrichments, improving the quality of metadata and ensuring alignment of catalogues with current UNIMARC standards.
Library catalogue
In the online library catalogue, you can find more than 30,000 titles, with some dating back to the 19th century. Children's material almost reaches 3,500 titles and includes audiovisual collections, such as multimedia and video.
The catalogue of the Mobile Unit of Lamia Central Public Library, which is also available via openABEKT, includes 7,312 records. Apart from language material and sheet music, it offers a collection of 477 audiovisual educational records.