The Library of the Orthodox Academy of Crete includes more than 30,000 titles and more than 600 magazine and newspaper titles.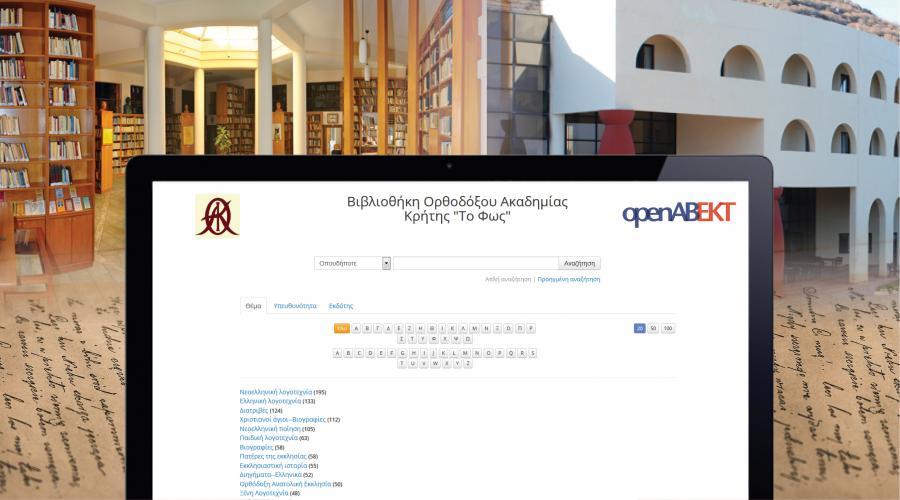 The Library of the Orthodox Academy of Crete (OAC) 'The Light' now allows online access to its catalogue, https://oaclib.openabekt.gr/en, through openABEKT, an integrated cloud service for catalogue management and library functions that is developed by the National Documentation Centre (EKT) to meet current needs of libraries.
The catalogue of the OAC Library contains more than 30,000 titles and more than 600 newspaper and magazine titles, covering all branches of Science, Social, Humanities, Sciences, Theory, with emphasis on Theology. The library catalogue, which is constantly enriched, consists mainly of bequests from eminent people from  Literature and the Arts and includes three bequests- collections.
The first collection contains more than 20,000 volumes. Its donors include personalities such as the late Archbishop Kissamos-Selinon, Eirinaios Galanaki, Professor Nicholas Nesiotes etc. The second collection is derived from the personal library of Dr. Alexander Papaderos and comprises approximately 8,000 books and magazines. The third collection is the personal library of Gerasimos Konidari (Theologist Professor-University) and consists of about 2,000 books and magazines.
The Library is a lending library and the user will find one of the largest collections of theological books in its catalogue. Material such as rare books, newspapers and recent journals cannot be borrowed but are available to the public for use on the  library premises.
The catalogue, which includes titles in Greek, English, German, French and Russian, serve the whole of the educational, scientific and research communities. The Library has also joined the Greek Libraries Network of the National Library of Greece, as well as the Libraries Network 'Future Library'.
The library catalogue takes full advantage of the functions and features of openABEKT, providing the user with advanced content search and navigation capabilities, with interactive chronologies and specialisation filters, providing an enhanced user experience. Information describing the item and relevant material from the catalogue and elsewhere is also given.
The OAC library 'The Light' was created in 1995 courtesy of the American writer Robert Fulghum, who covered all of the new building construction costs.
The library's 'Saturday in the OAC Library' offers educational activities for local children. The aim is to offer an alternative kind of teaching and is based on the involvement and active participation of children in innovative projects which enhance learning.
Recently, the library organised a Symposium with representatives of west Crete libraries - the first such action at library level - in order to plan and co-operate in joint events for the future at local level and beyond.
The library site implemented under the 'Promotion of Orthodox Cultural Heritage of Chania' programme allows visitors to access the Digital Archive, which consists of a multitude of content, such as books, magazines, audiovisual archive, pictures - mural paintings, sacred objects and photographs, which have been digitised with the latest technology.
www.ekt.gr, with information from Orthodox Academy of Crete