As national cultural aggregator, EKT invites cultural institutions to join SearchCulture.gr and Europeana.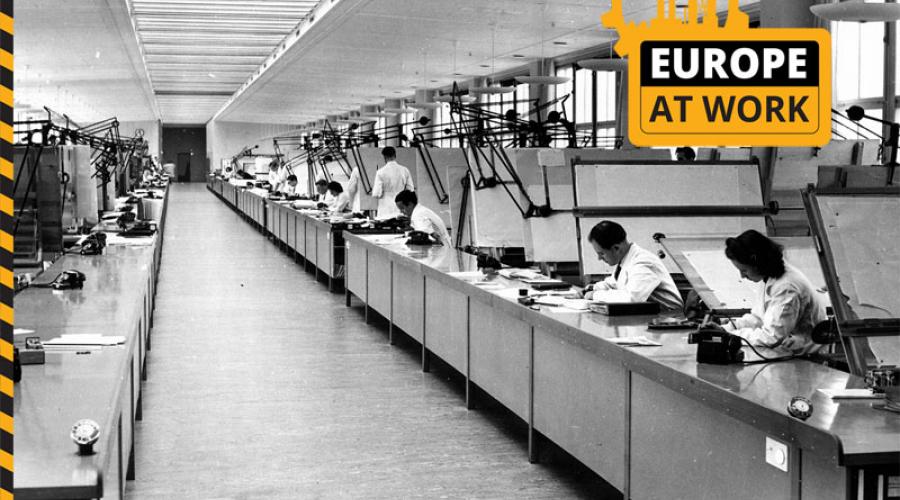 Our working realities nowadays are very much the result of developments and reforms that the industrial revolution kick-started. Participating in the social discourse about the meaning of work, Europeana, the European digital library, is dedicating a season to the History of Labour.
'Europe at work' recounts and explores European industrial and labour-related heritage during this period. Explore Europeana's new collection of industrial heritage, which includes approximately 440,000 records, to discover fascinating material about our industrial and work heritage. In the coming months, "Europe at work" will be exploring these themes, through collection day events across Europe, editorials (galleries and blogs) and a crowdsourcing campaign in which anyone is invited to share their story and contribute with photographs and related archival material. If you want to participate, you can do this by completing the relevant form.
In the spring of 2019, after having forged a partnership with Europeana for many years and having contributed more than 320,000 records to Europeana, the National Documentation Centre (EKT) became the accredited national cultural heritage aggregator for Europeana through SearchCulture.gr. We call any interested organisations to participate by contributing their data to SearchCulture.gr and to Europeana. This is a free service for cultural organisations who wish to showcase their content internationally. Simply fill in the relevant interest form.
Within its role as the national cultural aggregator, EKT is responsible for contributing content to Europeana through SearchCulture.gr. Since we have harmonised content integration and interoperability standards, either technical, documentation or legal, with Europeana, it is pretty straight forward for any cultural institution to contribute content to Europeana by joining SearchCulture.gr.
Since January 2019, EKT has also been a partner in the European project Europeana Common Culture, which aims to enhance co-operation between national aggregators and Europeana, augment the volume of good quality, open access content in Europeana and harmonise aggregation policies, technologies and infrastructure. By participating in the project, EKT aims to proliferate and improve the quality of Greek content available in Europeana. The Europeana Foundation is co-ordinating the project in which 24 national aggregators from Europe participate.
Europeana offers access to over half a million records of cultural heritage from across Europe and contributes actively to the development of a shared European identity, linking Europe's museums, libraries and archives with the public and the innovation and creative communities.
www.ekt.gr, with information from EKT, Europeana