The 'European Commission report on Cultural Heritage: Digitisation, Online Accessibility and Digital Preservation' gives a comprehensive overview of strategies and policies of member states for digitisation of cultural heritage and highlights best practices.
The report, 'Cultural Heritage: Digitisation, Online Accessibility and Digital Preservation, published June 12 2019, highlighted the European Commission's investment in the work done by Member States  to digitise, provide online access and digitally preserve their cultural heritage. Greece received a particular mention in the report as an example of best practices 2015-2017, with reference to the National Archive of PhD Theses, managed by the National Documentation Centre (EKT) along with EKT's ePublishing service for electronic open access publications.
The report monitors the implementation progress of the Commission Recommendation on the digitisation and online accessibility of cultural material and digital preservation  (2011/711/EE) by each Member State. It attempts to give an overview of the strategies and policies of the Member States for the digitisation of cultural heritage, to highlight best practices and opportunities for economies of scale and help potential synergies with initiatives at EU level, including the implementation of the Declaration of cooperation on advancing digitisation of cultural heritage, signed on Digital Day 2019.
The Recommendation is a milestone in digital cultural policy and is virtually the only policy at EU level which covers the entire digital life cycle of cultural heritage - data planning, implementation and financing of digitisation, online access and wider accessibility, as well as reuse and digital preservation. The Recommendation urges Member States to intensify their efforts to unite their resources and partner with the private sector in order to increase web accessibility to European cultural heritage and to strengthen the participation of citizens and the development of creative industries in Europe.
The recommendation also suggests that Member States should submit digitised material to Europeana, Europe's cultural platform that provides access to a wide range of digital content from Europe's libraries, archives and museums
In the Foreword of the report, Mariya Gabriel, European Commissioner for Digital Economy and Society pointed out that: 'Europe's galleries, libraries, archives, museums and audiovisual archives have vast and rich collections that represent Europe's cultural diversity but also our shared history and values. We have a lot to cherish, share and safeguard.'
The first chapter of the report, entitled 'Digitisation: organisation and funding', analyses the way in which Member States plan, organise and monitor the digitisation of cultural heritage. It presents synergies between cultural institutions to achieve this objective, the use of EU Structural Funds for digitisation projects and how the actors exploit economies of scale for these projects.
An important trend that emerges during 2015-2017 is three-dimensional digitisation: more than one third of the Member States reported funding digitisation programmes for immovable cultural heritage such as monuments, historic buildings and archaeological sites. This is very important because immovable monuments are particularly vulnerable to threats that are difficult to predict or prevent.
The recent fire in Notre Dame, which broke out on April 15, 2019, highlighted this fact and the report emphasises that awareness in this area is beginning to yield results. Particular mention is made of activities in Bulgaria and Poland in 2015-2017.
The second chapter, 'Digitisation and Online Accessibility: Public Domain Material' covers the digitisation and accessibility of content made available online in the public domain. More than 2/3 of Member States promote digital preservation of public cultural heritage.  Examples of best practices for 2015-2017 in terms of commercial and non-commercial use and reuse of digitised cultural heritage cites Greece and two EKT actions: National Archive of PhD Theses, which provides access to more than 41,000 PhDs, and EKT ePublishing which publishes available, open access, electronic publications (journals, conference proceedings and monographs). Special mention is also made to EKT's Specifications for Interoperability, published and revised in 2013 to support cultural organizations who want to make quality data available in aggregators.
An important part of the report was dedicated to Europeana and co-ordination actions for developing the European cultural aggregator. Europeana has developed a Publishing Framework which outlines content collected at four levels, depending on the quality of documentation and openness of licensing with which it is available. According to the report, 15% of the total content of EU member states is of high quality (categories 3 and 4).
Spain, followed by Sweden, had the largest number of objects in high quality categories. In order to further effectively promote the quality of digital content, the report shows that there is need to strengthen the aggregator ecosystem and co-ordination between national and local aggregators.
Of particular interest is the Report Table with the number of items per country in Europeana. According to these figures (August 2018) Greece has submitted more than 700,000 digital objects to Europeana. Note that in its role as National Aggregator, EKT submits cultural content to Europeana through the SearchCulture.gr infrastructure it develops. EKT also participates in the project 'Europeana Common Culture', through which it aims to increase the Greek content in Europeana, specifically in the higher categories (3 and 4).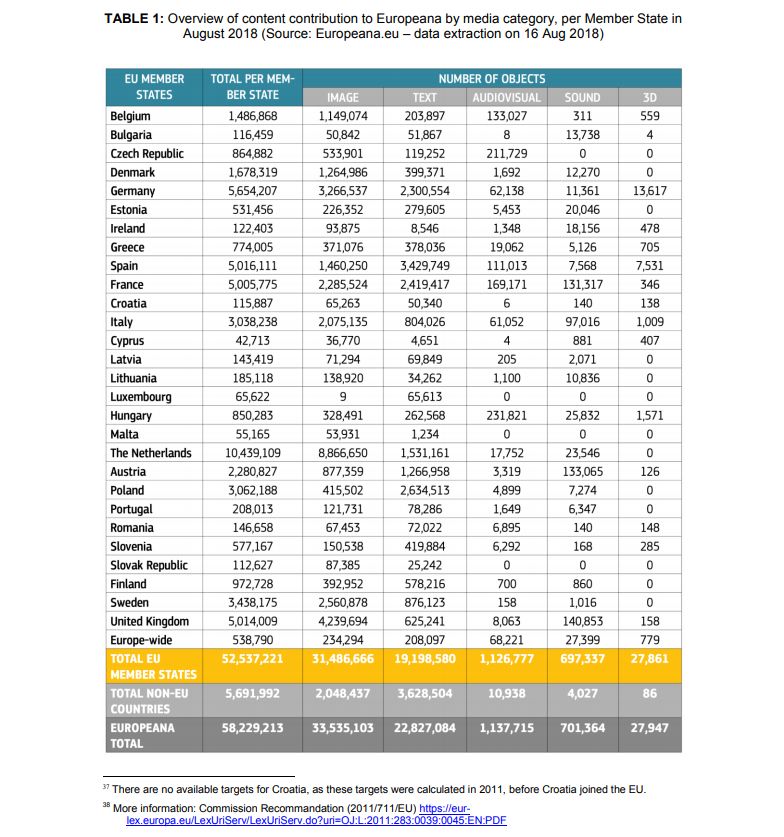 Co-operation between Member States is crucial, as noted by the Report, in order to continue to progress in areas where digital technologies can have a measurable and substantial impact on society and the economy.
Europe has a very rich cultural heritage that embodies its past and creates a sense of shared history and identity.
Digital transformation can play a key role in facilitating cultural experiences, the creation of new knowledge, and the preservation, use and creative reuse of cultural heritage without borders.