Building Communities' was the focus of topic of this year's meeting, in which EKT participated as National Aggregator for Europeana through SearchCulture.gr.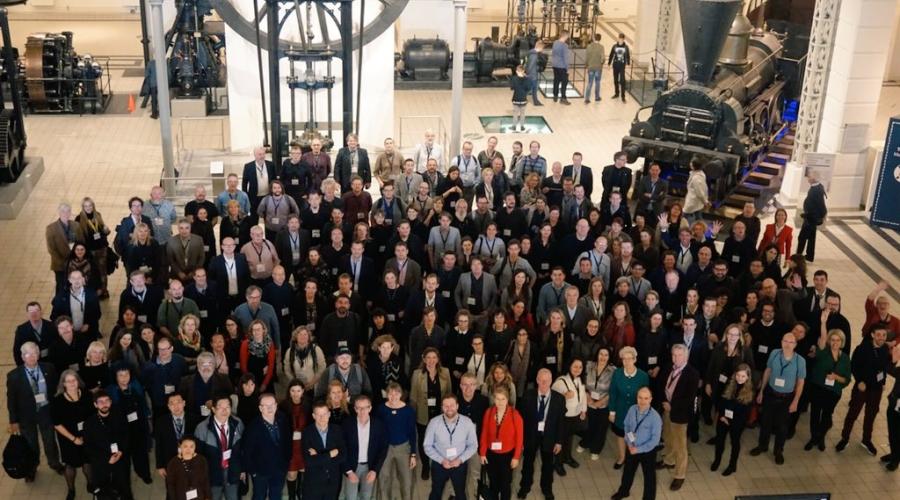 The National Documentation Centre (EKT), through its development of SearchCulture.gr, is National Aggregator for Europeana and, as such, took part in this year's Association AGM (Europeana Annual General Meeting), which offers an opportunity for updating and networking.
This year's meeting was held in Vienna on 5 December 2018 and preceded the final conference of the European Year of Cultural Heritage. More than 220 network members from all European countries met in a particularly festive atmosphere owing to the Austrian Presidency of the EU, the city's Christmas decorations and the celebration of 10 years since the launch of Europeana, the European digital platform for cultural heritage.
Ten years earlier, on 20 November 2008, the pilot Europeana portal was launched and traffic was so heavy, that as a result, Europeana crashed that evening. Ten years later, the European cultural aggregator holds more than 50 million records and has made enormous progress in the development and establishment of common interoperable standards for digitisation and open access to Europe's cultural heritage.
The focus of this year's meeting was 'Building Communities'. Both the key speeches and sessions were aimed at how to establish and maintain effective and democratic communities of interest which engage in all aspects of the digital cultural heritage value chain .
The Network Association has more than 2,000 members worldwide. Any professional, editor, data analyst, historian, archaeologist, librarian, information scientist, educator or informatics professional, involved in digitization, access and creative reuse of cultural heritage can become a member of the network.  The network aims to exploit the specific expertise that each member brings to enhance innovation and to foster the development of cross-sector partnerships between cultural heritage, creative industries, technology, research and education. In addition, it aims to develop common standards and best practices for interoperability and digital cultural heritage sharing and the promotion of Europeana to different professional networks.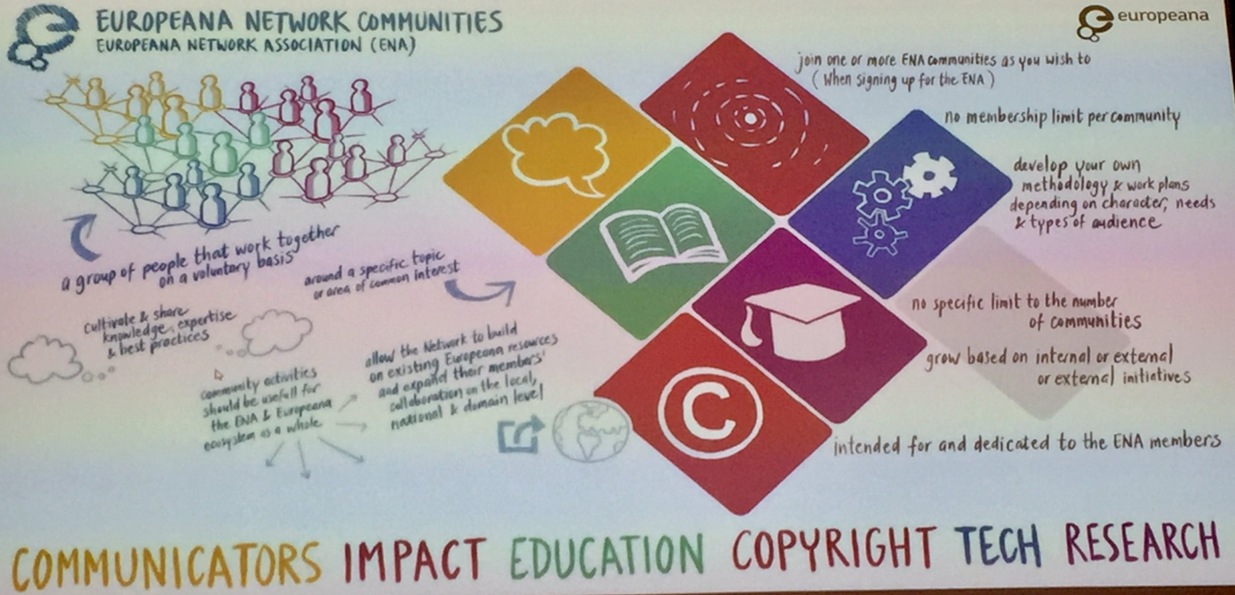 The Network is organised around the following six communities of interest:
• EuropeanaTech
• Europeana Impact
• Europeana Research
• Europeana Education
• Europeana Copyright
• Europeana Communicators
Each community is managed by a small Steering Group. Every year, it presents a work plan prioritising and preparing actions such as seminars, participation in conferences, online training, information material, etc. Each Community can have more than one Taskforces which can be engaged for a time to study an issue relating to the Network and to produce Recommendations for the implementation of the results (see e.g. Resource Citation/Object Identity Standardisation και Preparing Europeana for IIIF involvement).
EKT's role
The National Documentation Centre is responsible for the collection, organisation, availability and preservation of the entire Greek scientific, research and cultural output (content and data) and its dissemination in Greece and abroad. Under the previous Structural Funding Period and in collaboration with the 'Digital Convergence' funding programme, the national aggregator for Europeana SearchCulture.gr was created for the aggregation, safekeeping and smart availability of Greek digital heritage inventories produced with public funding. Currently, SearchCulture.gr provides access to 50+ collections and hosts almost half a million cultural documents, of which over 100,000 are available in Europeana.
The National Documentation Centre is represented on the Europeana Network Council and the co-ordinating body of national aggregators, exchanging expertise and leading the way in terms of standardised, open and interoperable digital cultural heritage.
www.ekt.gr, with information from ΕΚΤ, Europeana