EKT, a founding member with a coordinating role in the Greek consortium Enterprise Europe Network Hellas, supports small and medium-sized enterprises with potential for innovation and extroversion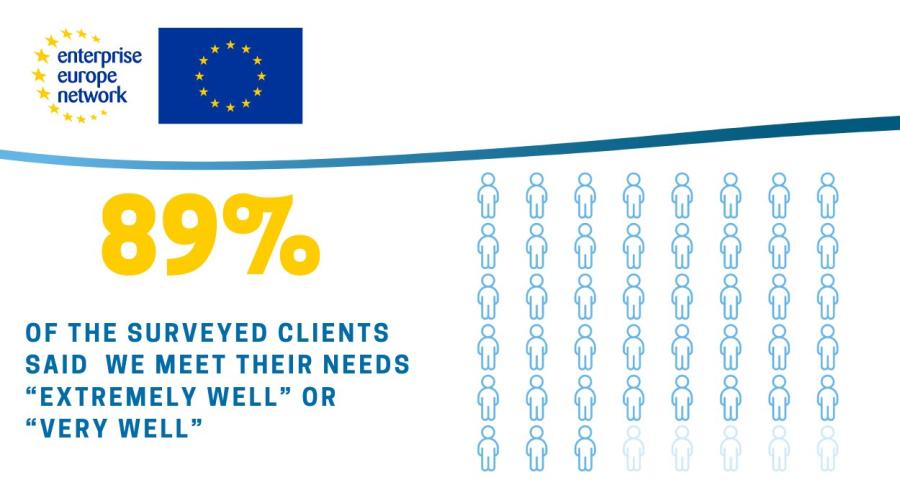 It is well known that the services offered by the Enterprise Europe Network for small and medium-sized enterprises are of a high standard, but it is really pleasing to see this proven through the surveys carried out by EKT.
In the latest questionnaire completed by enterprises receiving Network services around the world, 89% say that the Network has responded to their needs 'extremely well' or 'very well'.
The performance of the Enterprise Europe Network in Greece is also very positive. Nine out of 10 Enterprise Europe Network Hellas clients say that the Network has helped their business improve its performance.
Nine out of 10 enterprises increased their turnover by 14.7% with the help of the Enterprise Europe Network.
92% consider the services high quality and tailored to their needs. Six out of 10 say that the Network's services cover their business needs extremely well. Also, six out of 10 find the Network's response fast and effective. 90% are very likely to recommend Enterprise Europe Network to another organisation or consult it again in the future.
Need lightning-fast support for your business? ⚡️

We got you covered! 🙌

97% of our surveyed clients rate our response time as:
✅fast
✅efficient
✅aligned with their needs & priorities#EENCanHelp pic.twitter.com/Lv53kvvnE3

— Enterprise Europe Network 🇪🇺 (@EEN_EU) July 18, 2023
Enterprise Europe Network
The Enterprise Europe Network is the largest business support network in the world. It consists of more than 450 partner organizations, 3,000 specialised executives and 17 teams of experts in respective business sectors. The Network supports the resilience, extroversion, green and digital transition of every SME with international ambitions. Since 2008, the National Documentation Centre (EKT) has participated in a coordinating role in the Enterprise Europe Network Hellas consortium. For the period 2022-2025, EKT is responsible for Network Communication in Greece. It also participates in the thematic groups on Digital Transformation and Business Resilience.
www.ekt.gr, with information from EKT, Enterprise Europe Network