EIT Health Innovation Days (i-Days) promote health innovation through the active participation and education of students from academic institutions across Europe.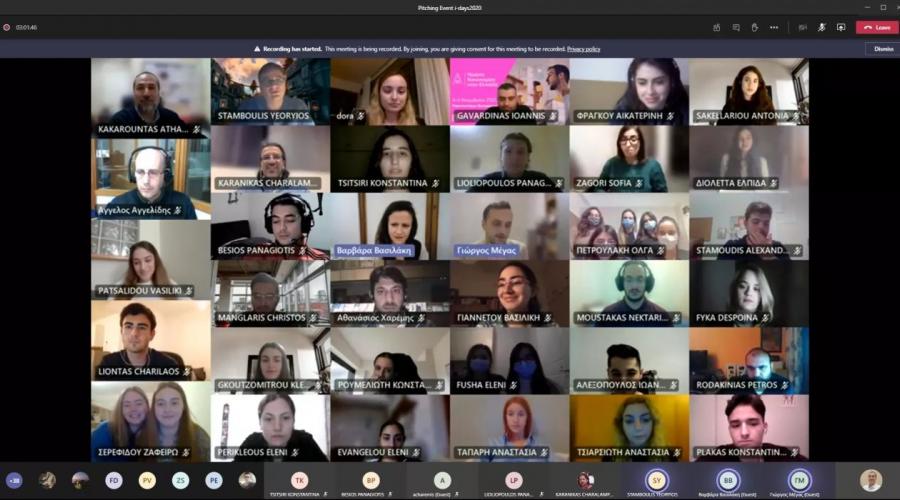 After three days of creative ideas, discussions and fruitful dialogue, the Innovation Days 2020 event was concluded on Friday, November 6th. It was organised for the third consecutive year in Greece by the National Documentation Centre (EKT) with the support of the University of Thessaly under EIT Health's project 'Innovation Days'.
Prior to the event, 70 students from the University of Thessaly formed 19 teams and were asked to address real health challenges, in close co-operation with and under the guidance of university professors and special advisors. On the last day they presented their ideas-solutions to the evaluators and three winning teams emerged
1st place – CryptoCare – Lydia Nega, Giorgos Getsios, Zoe Chitoglou (Bioinformatics students, University of Thessaly). The idea of ​​the three students is to implement a blockchain-based platform intended for use by individuals receiving growth hormone, ensuring that the recommended dosage is administered in full before receiving a new amount of the drug. The regular measurements performed by the subjects in treatment will also be recorded in a safe and private way, in order to evaluate the effectiveness of the hormone administration. This platform is easily scalable so that it can work effectively for any drug / hormone administered with a growth hormone-like protocol.
2nd place FitFinder -Antonia Sakellariou, Cleo Gountzomitrou (students in the Department of Electrical and Computer Engineering of the University of Thessaly.). This is an application that encourages students to train with or without a trainer. The application aims to reduce the loneliness that students feel by connecting them with other people who have the same purpose - namely exercise. Through a friendly menu, it enhances social networking, while encouraging a healthier lifestyle.
3rd place Immortal - Spyros Kontogiannis, Kyriakos Karasakalidis, Alexandros Stamoudis (mechanical engineering students, University of Thessaly).The idea concerns a technology product (ring or bracelet) that prevents the user from touching his face often, particularly important in the midst of a pandemic, along with a  set of data related to its use (via motion sensors).
The three teams will receive a cash prize from EIT Health, while the CryptoCare team that won first place will compete in the programme's pan-European competition on December 5th, 2020, where the ideas of the respective winners from 31 countries will be judged.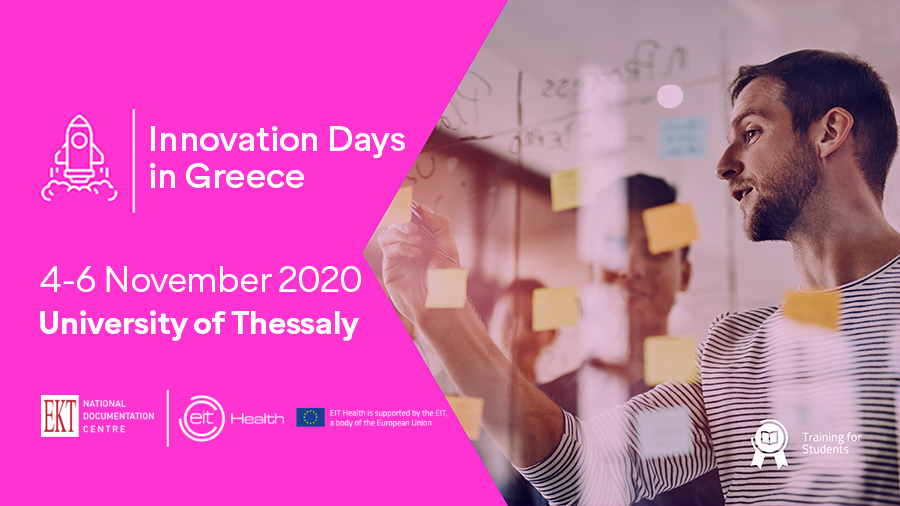 The team of evaluators and /or expert advisors consisted of: George Megas (EKT), VarVara Vasilaki (EKT), Angelos Angelidis (EKT), Athanasios Kakarountas (University of Thessaly), Georgios Stampoulis (University of Thessaly), Charalambos Karanikas (University of Thessaly) , Dora Trachana (Uni.Fund), Athanasios Haremis (EKT), Nikolaos Maniadakis (EKt), Katie Milioni (Myhabeats company), Georgios Dafoulas (University of Thessaly), Alexis Fourlis (Vidavo company), Lydia Papadaki, (EIT Climate) Sophia Vassiliadou (Wellics company).
Innovation Days (i-Days) promote health innovation through the active participation and education of students from academic institutions across Europe. From September 25 to November 25, partners from 6 EIT Health Co-Location Centres and 13 RIS Hubs, are hosting the programme in more than 30 locations across Europe, online and/or in person.
About EIT Health
EIT Health is a non-profit organisation and one of the largest European public-private partnerships in the field of health innovation. Composed of around 150 partners, EIT Health is a unique European network of leading companies, universities, research and development centres, as well as hospitals and institutes. With a budget of € 2 billion, EIT Health upgrades the skills of healthcare professionals across Europe, investing in its best talents, facilitating the production of innovative medical products within the EU. It is one of the largest funded health care initiatives and is supported by the European Commission and the European Institute of Innovation &Technology (EIT).    
The National Documentation Centre is the Greek hub for EIT Health in Greece.
For further information contact George Megas, innovation consultant, EKT and co-ordinator of the Greek hub of EIT Health, Varvara Vasiliki, innovation consultant EKT and Angelos Angelidis, co-ordinator of Enterprise Europe Network-Hellas and EKT's innovation advisory group.
www.ekt.gr, with information from ΕΚΤ, EIT Health