Undergraduate and postgraduate students are trained and compete to meet the real health challenges of Europe's population.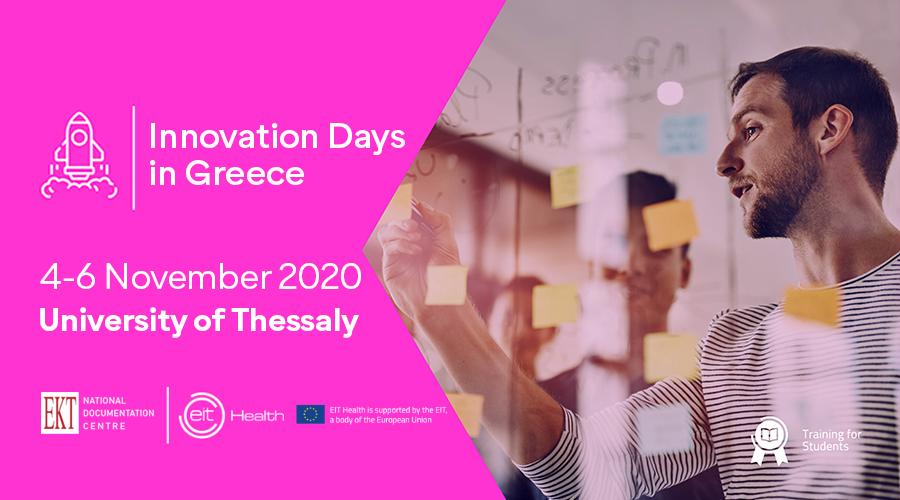 For the third year EKT, the EIT Health hub in Greece and the University of Thessaly (Department of Economics and the Department of Computer Science and Biomedical Informatics) are organising Innovation Days, a successful EIT Health initiative. Student teams are trained to develop innovative ideas in the health sector and then compete at European wide level. With the mentoring of university lecturers and expert advisers, teams of Greek students will study and compete from 4 to 6 November 2020.   
The process is implemented in four stages:
1.Students register on the relevant platforms under the guidance of their professors.
2.     They form teams, select challenges and study the online educational material.
3.      They co-operate closely with professors and expert advisors to accomplish the challenge they've undertaken.
4.      The teams present their ideas and compete with each other.
Innovation Days (i-Days) promote innovation in health through the active participation and education of students from academic institutions from all over Europe. From September 25 to November 25, partners from 6 EIT Health Co-Location Centres and 13 RIS Hubs, will host their own i-Days in 34 locations across Europe, online and/or in person.
Undergraduate and postgraduate students participating in Innovation Days, through their University (the University of Thessaly in Greece), receive an introduction to practical innovation tools (Design Thinking etc.) and work in multidisciplinary teams to tackle real-life health challenges posed by EIT Health projects, local organisations and private corporations.
In Greece, students will work in the following fields:
Inspired speakers and expert advisors will introduce students to practical tools for innovation, Design Thinking and Idea pitching.On the last day, the student teams will present their ideas and will be judged by a group of experts, who will use standard grading criteria to award prizes to the best teams. The winning teams of local i-Days will be invited to the pan-European final, where they will meet with students from other universities. The winning teams will receive resources to develop their ideas, while all participating students will become members of EIT Health graduates, gaining access to new education and training opportunities.
Note that English is the working language of the initiative.
For further information contact Giorgos Megas, Varvara Vasilaki and Angelos Angelidis.