The initiative's aim is to develop digital applications and methodologies for the economy and society which tackle the effects of the COVID-19 pandemic.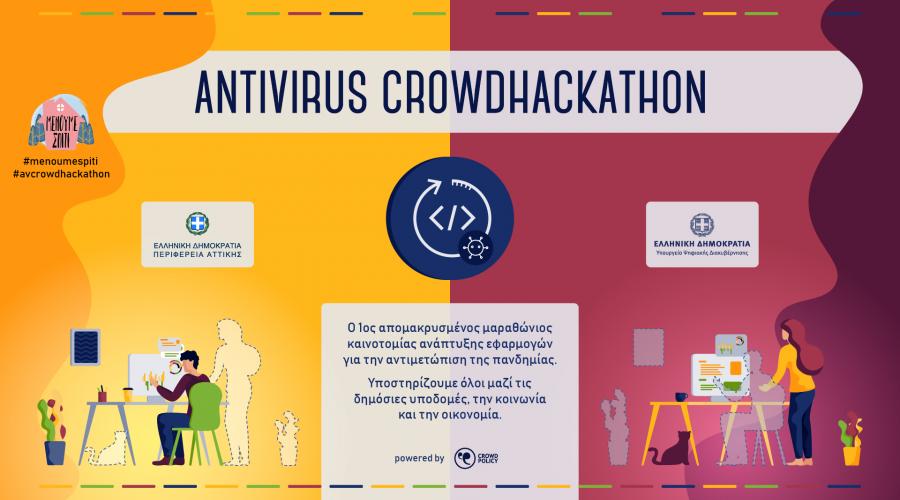 Young people with innovative ideas, professional or amateur teams, academic-research laboratories and companies are invited to take part in the remote innovation marathon Antivirus Crowdhackathon to develop applications  to cope with  the consequences of the COVID-19 pandemic. The marathon is being organised by the Region of Attica, with the support of the Ministry of Digital Government, public institutions, including the National  Documentation Centre (EKT), and companies and collective entities.
Participants are encouraged to use all means of modern technology to combat the immediate problems and needs of organisations and citizens:
•  proposing issues or problems or challenges that need a solution in society, health, entrepreneurship and economy (public submission of proposals - deliberation).
• developing innovative methodologies and applications that address these problems.
• supporting this effort (mentors, sponsors, supporters, public organisations, companies, collective entities).
Typical applications and outcomes that could result from the innovation marathon are: Prevention and information applications for the public; strengthening the public health infrastructure; forms of alternative funding for health research; patient service applications; applications for businesses, remote working and collaboration; development of e-learning platforms for individuals and businesses.
EKT, an organisation that promotes knowledge, innovation and  digital transformation, is supporting the marathon as part of its actions as the Greek node of ΕΙΤ Health, as a partner of STARTUP3, and as a coordinator of Enterprise Europe Network - Hellas and the initiative Knowledge and Partnership Bridges. Giorgos Megas, Innovation Consultant at EKT,  participated as a mentor in: Technology - Development, Project management, Presentation of the idea / application to receive funding / support from European programmes / projects.
The first cycle concluded Sunday April 5 2020, however, the marathon will continue throughout the course of the pandemic, mobilising the creative forces of  Greek society to deal with its consequences, and  facilitating their networking.
The marathon is being organised with the technical support of Crowdpolicy and associated organisations. The code for Antivirus Crowdhackathon applications is freely available with open licence on github.
Find more information on how you can participate in subsequent cycles of Antivirus crowdhackathon here. 
www.ekt.gr, with information from Crowdpolicy, Region of Attica