The webinar will be held as part of the European project STARTUP3, in which the National Documentation Centre is an active member.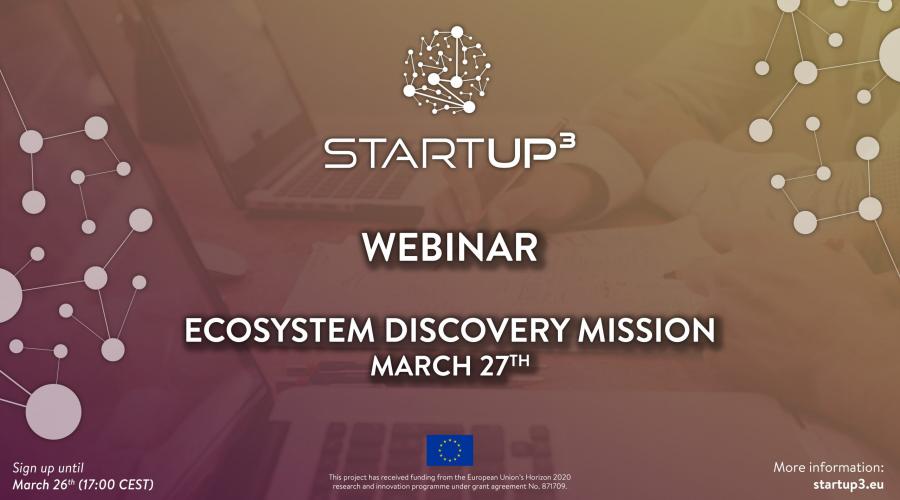 Due to the current COVID-19 pandemic, the European project STARTUP3 has decided to hold a webinar on Friday March 27, replacing the scheduled event  'Ecosystem Discovery Mission', which would have taken place under normal circumstances in the 'Sophia-Antipolis' technology park in France on 26 and 27 March 2020.
STARTUP3 decided to tackle the current crisis by creating new opportunities, such as giving this event a wider European dimension as it will now be accessible throughout Europe!
If you are a startup that:
• wants to accelerate the growth of your business and seeks new opportunities for co-operation with major players or
• participates in a cluster that is interested in deep tech innovation and new digital technologies or 
• seeks innovation opportunities at cross-border and cross-sectoral level or
• wants to implement and follow a customised acceleration programme from home,
then you should definitely take part in the STARTUP3 Discovery Mission Webinar!
Representatives of STARTUP3 (business accelerators, clusters, DIH) will show you their technology ecosystems, will give you more details on the accelerator STARTUP3 and will present, among other things, the major players of SCS Cluster ecosystem (Symag, Amadeus, INRIA) and the challenges of innovation. Each session will be followed by a 10-minute question and answer session.
To participate, click here.
For the webinar programme, click here.
STARTUP3 is a European project, in which EKT is an active member, that was officially launched in February 2020. It is financed by Horizon 2020 and is part of the European-wide initiative Startup Europe For Growth & Innovation Radar.
The STARTUP3 project creates bridges between new dynamic startups and large companies operating within the EU. It offers technical and business support for new ideas to find their way to the market, while startups network and benefit from their interaction with the European business ecosystem.
www.ekt.gr, with information from EKT