The incorporation of the digital collections of organisations in SearchCulture.gr and Europeana enhances the international promotion of Greek digital content.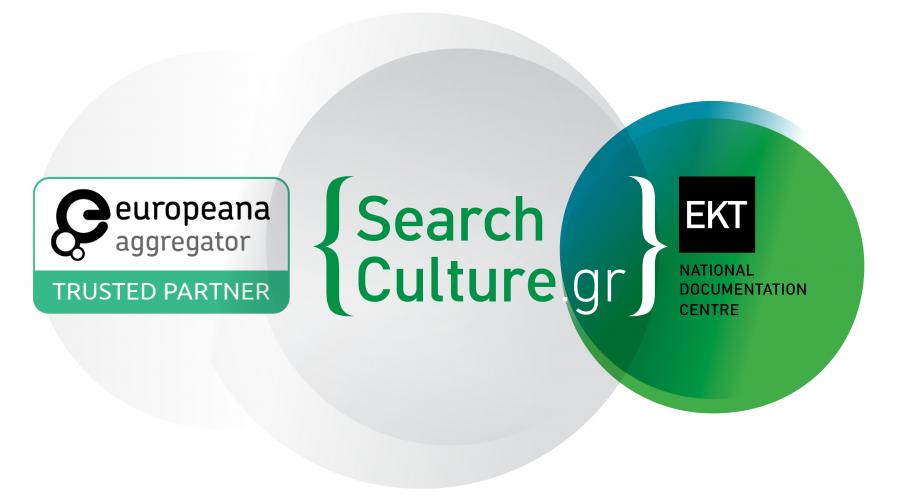 Having collected more than 500,000 digital cultural items from 59 Greek cultural institutions and made 150,000 of them available to Europeana through its SearchCulture.gr infrastructure, the National Documentation Centre (EKT) has become the accredited national cultural content aggregator for Europeana. 
Europeana, the European portal for cultural content, went live in 2009 and has been the most prominent European Union initiative for digital cultural heritage, playing a catalytic role in the transformation of cultural institutions. It adopted the principles of Linked Data, under which the Europeana Data Model data exchange standard was developed, while vigorously promoting the adoption of standards, standardised open licenses, such as Creative Commons licenses, to facilitate the free sharing and reuse of cultural information belonging to the public sector.
Europeana brings together more than 50 million items from 2,500 institutions from across Europe. It works with thematic and national aggregators who undertake to provide support services and incorporate collections of individual institutions-providers into Europeana through their infrastructures.
EKT's online portal SearchCulture.gr, which has been enriched with new collections and functionalities, today displays 500,000 historical and archaeological, art and cultural items and material available from classical to contemporary times, such as photographs, texts, audio recordings, video and maps.
Contributing institutions include museums, archives, ephorates, municipalities, cultural institutions, research centres and libraries, among which are the National Gallery, Funds of Archaeological Proceeds, Thessaloniki Film Festival, Onassis Foundation, Archaeological Museum Chania, Tositsa Baron Museum of Metsovo, Historical and Ethnological Society of Greece, Folk Art and Ethnological Museum of Macedonia and Thrace, Archaeological Society of Athens and Acropolis Restoration Service. From the collections of these organisations, over 150,000 items have already been made available through EKT to Europeana since 2015.
Under its role as national aggregator, EKT is responsible for the availability of content aggregated in Europeana. Since almost all the content integration standards regarding the technical, documentation and legal requirements of SearchCulture.gr are in accordance with those of Europeana, data provision from cultural institutions to Europeana is streamlined and no additional actions are required on the part of the organisation.
As part of the integration process, the National Documentation Centre provides advisory and support services with regards to the  documentation and interoperability standards used, the selection of standard open licenses and semantic enrichment of the organisation's data. All of the reciprocal public services available from EKT for content providers are free of charge.
SearchCulture.gr is made of a modular aggregation infrastructure that covers the entire lifecycle of content aggregation, from collection, control and semantic enrichment, 'smart', central dissemination and secure preservation of digital sources. Content is available either via Web API or Linked Data. In this way, the content can be embedded in other applications and websites and further exploited in education, research and cultural & creative industries.
Participation of EKT in Europeana Common Culture
Since January 2019, the National Documentation Centre has also been participating as a partner in the European project Europeana Common Culture, Europeana Common Culture aims to develop a harmonised and coordinated environment for Europeana's national aggregators, to collaborate, share resources and technical means, and agree on common recommendations and standards. Additionally, the project will improve the quality of content and metadata to increase user satisfaction. Upon completion of the project in June 2020, EKT aims to have proliferated and improved the quality of Greek content available to Europeana. The project is co-ordinated by the Europeana Foundation and involves 24 providers / aggregators from Europe.
The integration of digital collections of organisations in SearchCulture.gr and Europeana, guarantees standardised online inclusion of collections, increases traffic and visibility of their collections in the national and international environment and their integration into a wide network of cultural institutions, which stay-up-to-date, co-operate and take the lead in the use of technology capabilities for the open distribution of their collections.
If you are an organisation with available digital cultural collections, learn more about its benefits and how to integrate your collections in SearchCulture.gr and become a member of a robust network of cultural organisations!
www.ekt.gr, with information from EKT, Europeana