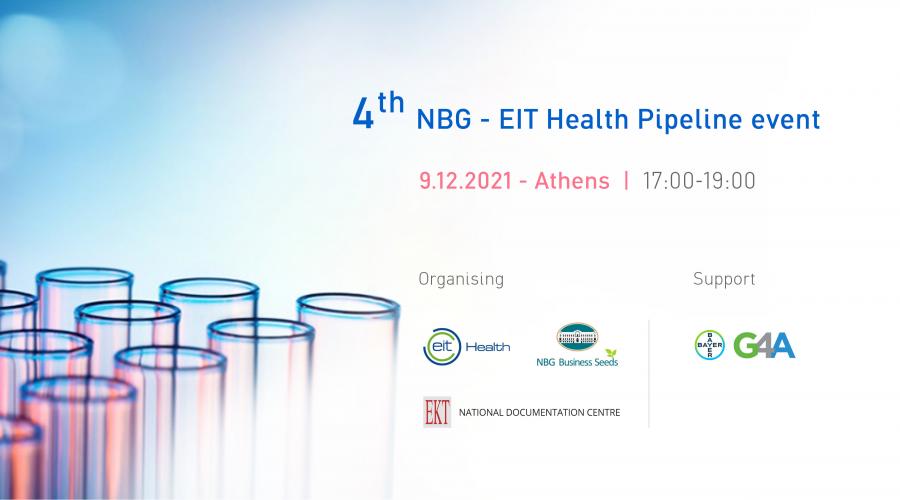 Where and When


Virtually
The National Documentation Centre (EKT), a hub of EIT Health in Greece, and the NBG Business Seeds programme of the National Bank are organising the "4th NBG - EIT Health Pipeline event" to be held on Thursday, December 9, 2021 ( 17: 00-19: 00). The event is being supported by the Bayer G4A startup programme. This is the fourth consecutive event designed to promote innovation and entrepreneurship in this sector through introductions, information, networking and guidance for start-ups and groups with entrepreneurial proposals in field healthcare.
In the event, EKT, NBG Business Seeds and Bayer will present their programmes and actions to boost innovation and entrepreneurship. In addition, solutions from startups and teams with innovative ideas participating in these programmes will be presented and there will be given time for questions and discussion.
The purpose of the event is:
The presentation, support and networking of teams in healthcare and specifically those that emerged through the 'NBG Business Seeds Competition'
The presentation of innovative solutions and value propositions from existing and emerging start-ups participating in the above programmes.
The presentation of actions to support innovation and entrepreneurship in healthcare, the EKT, EIT Health and other organisations and initiatives.
The detailed presentation of all new programmes for accelerating start-ups in healthcare from EIT Health for 2022 (EIT Health Acceleration Catalogue 2022).
Participation in the event is free, however, pre-registration is required via the registration form here.
For further information, contact George Megas, EIT Health HUB co-ordinator (megas@ekt.gr) and Varvara Vasilaki, EIT Health HUB project manager (vasilaki@ekt.gr).