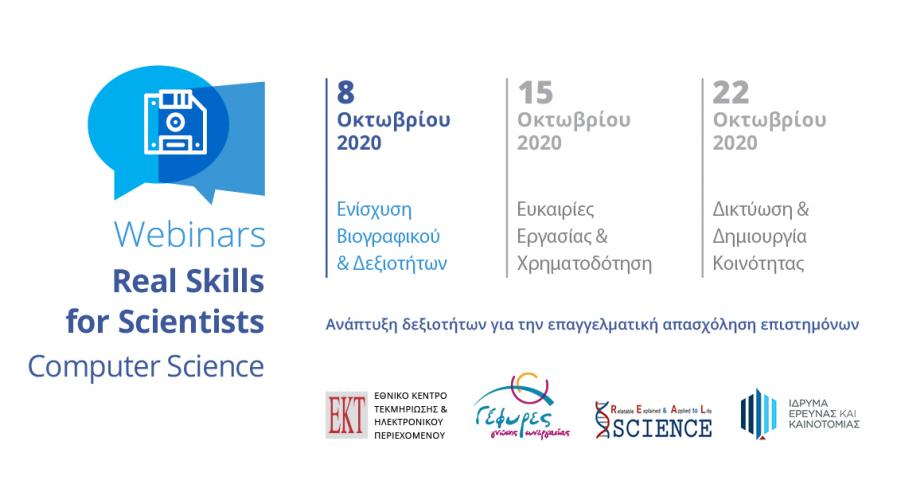 Where and When


Virtually- Microsoft Teams Live
When and where
After the successful first series 'Real Skills for Scientists-Life Sciences', the National Documentation Centre, under the 'Knowledge and Partnership Bridges' initiative, and in co-operation with R.E.A.L. Science, will be back with a second series of webinars, this time in the field of Computer Science (Computer Science, Computer Engineering, etc.). It will be supported for the first time by the Cyprus Research and Innovation Foundation.
Find more information here.
The 1st webinar will be held on Thursday 8th October (17.30-19.00). The initiatives 'Knowledge and Partnership Bridges' and 'R.E.A.L.Science' will be presented and will be followed by 4 scientists and business executives from Greece and abroad who will share their experience and know-how with respect to enhancing CVs for a successful career in Computer Science.
The four speakers: Marili Nika,Speech AI Product Manager at Google USA, Manolis Babatsikos, Founder & 3D VR/AR Medical Visualization Specialist at 3DMedWorld, Manolis Makris, Frontend Developer at Datawise Data Engineering LLC  and Marilia Kissa Applied data scientist at Group nine media will discuss the creation of a CV, the conditions to be met for career development, the importance of traineeships, voluntary work etc.
Attendees will be able to submit questions to the speakers during a live Q&A session.
Participation is free upon submission of the participation form here.
Speakers