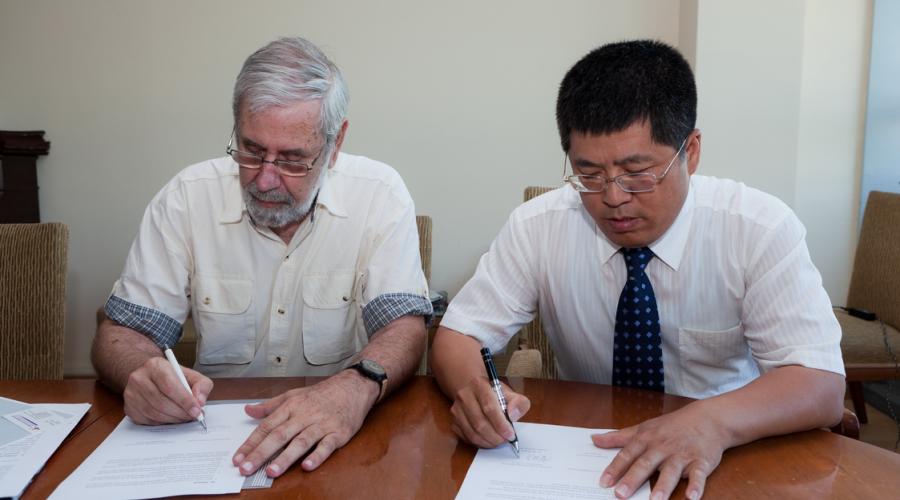 With the aim of promoting transnational collaboration in the fields of scientific information and technology, the National Documentation Centre of Greece (EKT) and the Institute of Scientific and Technical Information of China (ISTIC) signed a "Memorandum of Understanding" on June 12, 2012. Evangelos Bouboukas, Director of EKT, and Defang HE, president of ISTIC, and their working teams signed the Memorandum and sealed their co-operation during a meeting held at the National Hellenic Research Foundation.  
The two institutes established their co-operation on the basis of issues on digital content, its distribution, research infrastructures, bibliometrics, indicators in research, open access in knowledge and practices for the exploitation of research results.  
In the next few years, both parties will work on the efficient dissemination of scientific publications, scientific and technical information and digital cultural information. They will collaborate on exchanging know how and technology in the sector of research e-infrastructures. In the field of bibliometrics and scientometrics, the parties will collaborate on exchanging personnel, knowledge, reports and joint grant applications in topics of mutual interest.  
Regarding the development and implementation of effective Open Access policies in their respective countries, EKT and ISTIC will also exchange personnel and know-how. The parties will collaborate in joint grant applications at national, European and international programmes and will each make it a priority to invite the other to be a partner when applying for international cooperation projects such as EU research projects. In addition, the Memorandum will support collaborations between Greek and Chinese researchers.  
This Memorandum will remain valid for five years and its renewal will be determined through mutual consultation and agreement. Following the formal signing procedures, the president of ISTIC, Prof. Defang HE and Prof. Jie Peng, Director of Resources Sharing & Promotion Centre at ISTIC, were shown around the National Documentation Centre premises  (Library, Computer Center etc.) .
                                                                   
In his briefings, Prof. Defang HE stated that he views the cooperation between the countries as a promising and fruitful project. Mr. Evangelos Bouboukas also expressed his satisfaction that EKT will have the opportunity to exchange ideas, knowledge and technical applications with one of the most significant institutions at the international level. As both emphasised, this collaboration promotes further growth and empowerment of the bilateral relations between Greece and China in the field of science and technology.  
Institute of Scientific and Technical Information of China
The Institute of Scientific and Technical Information of China (ISTIC) (www.istic.ac.cn) was founded in 1956 as a national research and service institute subordinated to the Ministry of Science and Technology. ISTIC is designed to provide decision making support to the government agencies concerned with S&T activities in the country, in addition to its mandate of providing comprehensive information services to industry, universities, research institutes, and research personnel. It has become a management and service centre, an academic centre, a training centre, and an R&D and diffusion centre in the area of information technology. It functions as a major pillar in the national science and technology innovation system, providing guidance for S&T activities and staging demonstrations for the same purpose.  
National Documentation Centre
The National Documentation Centre (EKT) (www.ekt.gr) is the national institution for documentation, information and support on science research and technology issues. Founded in 1980, EKT is integrated with the National Hellenic Research Foundation (NHRF) and is supervised by the General Secretariat for Research and Technology. EKT's services are directed towards the country's entire scientific and business community, universities, research centres, enterprises and public and private sector bodies. With highly skilled, experienced staff and specialised technological infrastructure, EKT covers scientific needs all over the country; it monitors international trends, develops collaborations and networks and participates in national and European projects that geographically cover Europe, Eastern European Countries and Russia, as well as the Mediterranean, West Balkans, Middle East and Black Sea regions. Its activities contribute to the development of the Information Society (see www.epset.gr) and to the promotion of Innovation.   
The Memorandum of Understanding between the two institutions was signed as part of a number of the Centre's initiatives for strategic collaborations at a national level and international level.