EKT actively participated in the two workshops for the forming of the European Commission's 2023 annual strategic foresight report, which focuses on the twinning of the digital and green transitions.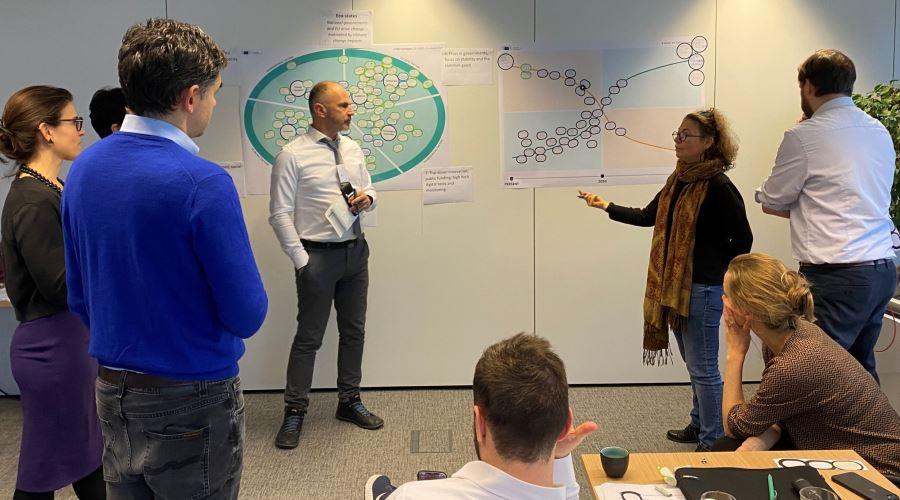 In recent years, the European Commission has published an annual strategic foresight report aimed at supporting European Union policy-making. Strategic foresight is based on the analysis of available data and trends in a structured and systematic way and helps prepare the European Union for the challenges and opportunities that shape our common future.
The latest Strategic Foresight Report, published in 2022 titled 'Twinning the green and digital transition in the new geopolitical context', focused on the interplay between Europe's digital and green transitions, taking into account the disruptive and ever-changing geopolitical landscape in which these transitions are taking place.
As part of the preparation of the new Strategic Foresight Report 2023, the European Commission organised two workshops with 40 invited experts in strategic foresight and the coordinating team for the project from the Joint Research Centre. Dr Panagiotis Kampis, Policy and Data Analyst at EKT, actively participated in both workshops that took place in Brussels on 25-26 November 2022 and 16-17 February 2023. The workshops aimed to provide answers to the following question: What strategic decisions need to be taken in the coming decades to ensure a socially and economically sustainable Europe with a stronger role in the world?
The working hypothesis was that the European Union would have achieved the ambitious goal of carbon neutrality by 2050 and four different scenarios were considered that could lead to its achievement. For example, one of the scenarios was that the European Union would achieve the goal through a series of crises and natural disasters that gradually lead to the strengthening of European integration and a stronger Union of the Member States.
The experts developed and refined the scenarios and co-created a series of pathways focusing on specific actions answering the questions what, who, when and why. Finally, the experts worked on eight cross-cutting areas that are important for achieving the goal of carbon neutrality by 2050.
The results of the collective work of the experts will form the basis for the draft report, which will then be put to consultation with the various services and bodies of the European Union. The final strategic foresight report is expected to be published in June 2023.
www.ekt.gr, with information from EKT, Εuropean Commission