Visit the informative website on COVID-19, with a selection of scientific articles and useful links.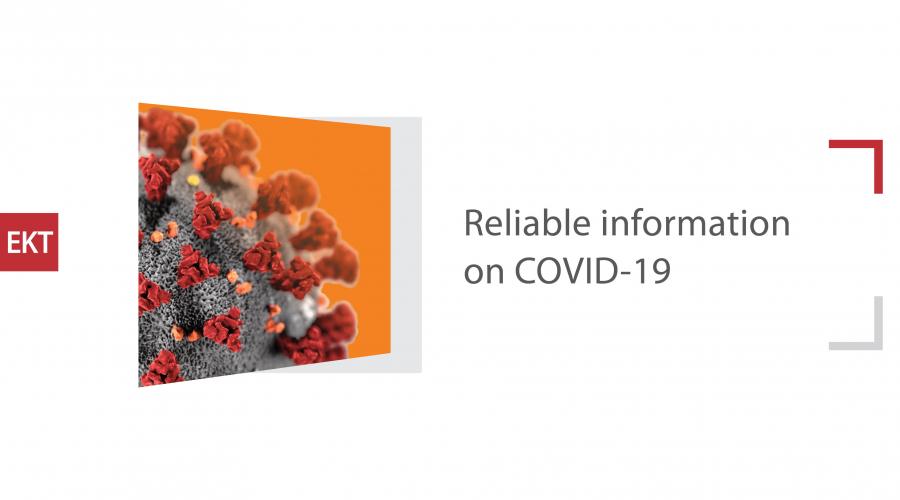 The coronavirus COVID-19 pandemic has affected most of the planet, creating an unprecedented situation to which we all have to adapt. In response to the new conditions, the National Documentation Centre (EKT) has created a website (http://www.ekt.gr/covid-19) with the intention of providing reliable information for the research community and any citizen interested in the developments in scientific research to address the pandemic.
The site, updated daily, contains selected articles from scientific journals, and useful links (organisations, videos, webinars, maps, graphs, etc.) for more information. The action is an example of how EKT is actively participating in the #DigitalSolidarityGR initiative of the Ministry of Digital Government.
Reliable and timely information for the research community and citizens is crucial in tackling the consequences of the ongoing pandemic. It is the most important factor in accelerating scientific research and shielding society against fear and irrationalism.
The importance of open access to scientific publications and research data has already been understood by most players that have an important role in scientific information. Major publishers in scientific publishing (eg Elsevier, Springer) have created special websites on which there are new sources and articles on open access to research for the new coronavirus and COVID-19.
In the US, the White House Office of Science and Technology Policy in collaboration with organisations and companies such as the National Library of Medicine, Microsoft and Allen Institute for AI, have set up a database on the COVID-19 pandemic (Covid-19 open Research Dataset, CORD-19), which is already available with open access to over 29,000 articles (published in scientific journals or ready for publication).
EKT has been the competent body for the collection, aggregation, organisation, documentation and dissemination of scientific and technological information since its foundation in the early 80s. By locating and ordering scientific articles from international databases, it has been the main source of medical information. Consequently, it is only natural that it too is striving to provide timely and accurate information on the new coronavirus, using the tools offered by technology.
Apart from the new COVID-19 website, the EKT website continues to offer valuable online scientific information services for researchers: to search international literature, citation index and bibliometric indicators; order full texts, articles and other publications and use the helpdesk.
With a significant proportion of our staff teleworking, and the reading room of the Library remaining closed during this period, EKT will be providing the above online services following the completion and submission of electronic forms, thus guaranteeing users have access to the information they consider necessary to carry out their research.