A copy of 'Books and Ideas: The Library of Plato and the Academy' by Konstantinos Staikos was offered by the President of the Republic to the President of the People's Republic of China.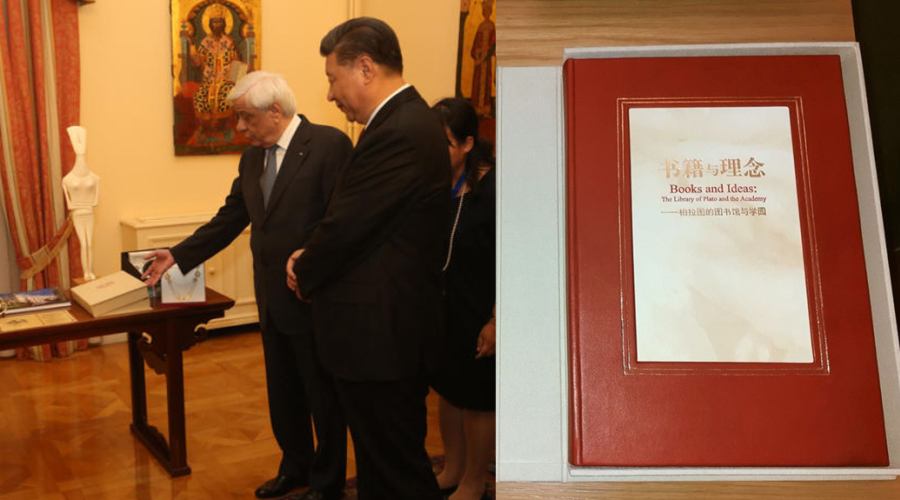 A special gift of cultural value was offered by the President of the Republic Mr. Prokopis Pavlopoulos to the President of the People's Republic of China Xi Jinping, at the official dinner hosted in his honor at the Presidential Palace on Monday November 11th  2019, during his official visit to Greece. The gift, 'Books and Ideas: The Library of Plato and the Academy' by the Greek book historian Konstantinos Staikos, has been translated into Chinese.
The book examines the papyrus books collected by Plato himself, a habit which began when he was still 'studying' under Socrates and continued throughout his years of teaching in the Academy. The book deals extensively with the works of the Ionian and Eleatic Natural Philosophers, as well as of the Pythagoreans, all of which played a key role in the drafting of Plato's Dialogues. It also unfolds the fabric of Sophistic literature composed in Athens and refers to the pioneers of the development of mathematics in the Academy circle. It includes topographical surveys and scale drawings.
Konstantinos Staikos, the editor of the book, is an architect and historian who has written several well-known books such as 'The History of the Library in Western Civilisation', 'The Great Libraries: From Antiquity to the Renaissance' and 'The Greek Editions Of Aldus Manutius And His Greek Collaborators'. He is currently working on a 5-volume edition,'  Intellectual Routes Of The Greeks Through the Manuscript And Printed Book.'
The world of libraries of antiquity
K. Staikos has created an extensive database with material about the world of libraries of antiquity (https://staikoslibraries.gr/gr/). The aim of the Libraries web page is to compile and offer a corpus of material on books and libraries, showcasing their evolution from antiquity (c. 3000 BC) onward. It is a visual guide to the history and architecture of palatial, public, monastic, royal and private libraries as evidenced in Eastern and Western cultures alike. The website is available in Greek and English, but translation into other languages of the East, such as Arabic and Chinese, is planned. With the support of the National Documentation Centre (EKT), the site will be technological upgraded and its functionality will be extended.
K. Staikos is a contributor to the Aikaterini Laskaridis Foundation which, in co-operation with EKT's SearchCulture.gr has developed a Travelogues website (http://el.travelogues.gr/) featuring travel engravings/ illustrations of Greece in the 15th-20th century.
www.ekt.gr, with information from ekt.gr, biblionet, staikoslibraries.gr