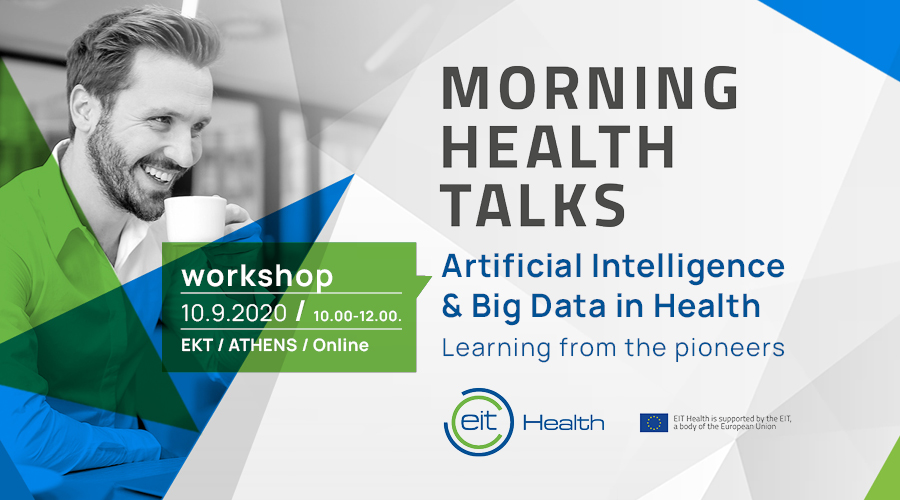 The National Documentation Centre (EKT) is organising an event about the role of Artificial Intelligence and Big Data in the health sector, in the framework of the EIT Health Morning Health Talks, on Thursday 10th of September (10.00-12.00) with the participation of distinguisted speakers from Greece and Israel.
in order to participate in the event, please fill the following registration form. You will receive an email with the details and the link to connect.
Το Εθνικό Κέντρο Τεκμηρίωσης και Ηλεκτρονικού Περιεχομένου (ΕΚΤ) διοργανώνει διαδικτυακή εκδήλωση για τον ρόλο της Τεχνητής Νοημοσύνης και των Μεγάλων Δεδομένων στον κλάδο της υγείας, την Πέμπτη 10 Σεπτεμβρίου (10.00-12.10) στο πλαίσιο των Πρωινών Συζητήσεων για την Υγεία, με τη συμμετοχή σημαντικών ομιλητών από την Ελλάδα και το Ισραήλ.
Για τη συμμετοχή σας στην εκδήλωση, παρακαλούμε συμπληρώστε την παρακάτω φόρμα συμμετοχής. Έγκαιρα θα λάβετε email με οδηγίες και τον σύνδεσμο για να συνδεθείτε.